Memorial Day is just around the corner and we are so ready to kick off barbecue season and summer pool parties with a few Strawberry Shortcake Trifles! Whether you are throwing a party in your backyard or you are invited to one, everyone will be looking forward to delicious food and desserts, refreshing drinks and of course, lots of fun.
I love to plan easy, classic recipes but with a fresh twist! These individual Strawberry Shortcakes Trifles are no different. We all love them in their classic form, but you'll love them even more served individually in Mason jars. These are a show stopper and there should be no surprise if they are gone in a heartbeat!
So easy to put them together and so pretty perfect for your party! You can bake the cake a day in advance and just assemble the trifles minutes before serving them. It's summer and it is the perfect time to kick back and relax!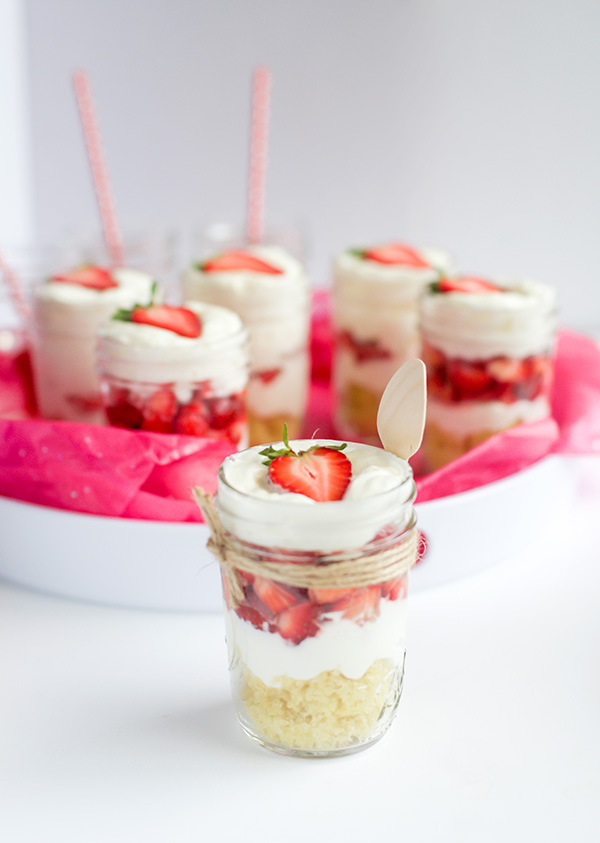 Strawberry Shortcake Trifles
Strawberry Shortcake Trifles Recipe:
Yield: 6 servings
2 eggs
1/2 cup buttermilk
1/2 cup vegetable oil
1/2 cup sugar
1 teaspoon vanilla essence
1/2 teaspoon baking soda
1/2 teaspoon white vinegar
1 cup all purpose flour
4 cups fresh strawberries, chopped or sliced
2 tablespoons sugar
2 cups heavy cream
6 Mason jars
Method:
Preheat oven to 350F.
In a large bowl, add eggs, buttermilk, vegetable oil, sugar, vanilla essence and white vinegar and mix until incorporated. Add flour and baking soda and mix again, until smooth. Prepare a square (9x9inch )baking pan and line it up with baking paper. Add batter and gently even the surface. Bake in the oven for almost 15 minutes. To check if t's done, insert a skewer in the middle and if it comes out clean, your cake is ready. Remove from oven and set aside to cool down.
In a medium bowl, add chopped strawberries and 1 tablespoon sugar and mix. Set aside, cover and refrigerate until serve time.
Whip heavy cream and 1 tablespoon sugar in large bowl until soft peaks form for about 5 minutes. Transfer whipped cream to a piping bag.
To serve them, prepare your Mason jars. Add a bottom layer of cake, pipe some whipped cream over, add strawberries and top with more whipped cream and a strawberry cut in half.