Thanks to this Chex recipe, I have been making Muddy Buddies since the early 90's. When there's no other treats in the house, I know I have all the ingredients to make these little buddies. And they're ready in minutes for the perfect quick snack!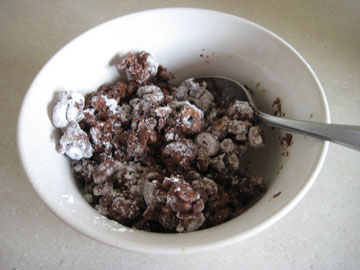 Muddy Buddies Recipe (My Version is slightly different than Chex using any cereal I have, and nothing is really measured)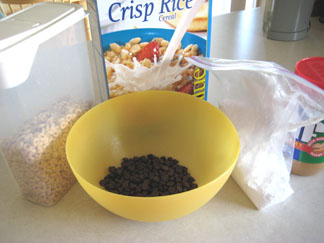 Chocolate chips, whatever I have, usually semisweet
Glop of Peanut butter
Whatever cereal is on hand – Chex, Kix, Cheerios, Rice Krispies – not really flaky ones
Some Powdered Sugar
Pour your chocolate chips into a Microwave safe bowl. Heat them on high for 1 minute at a time and stirring, do not burn! Then add your glop of peanut butter and heat for another 30 seconds. Stir these two yummies together!
Then add in your cereal of choice. I had Cheerios and Crisp Rice on hand. I just pour it in, not measuring. Start with less and you can always add more. Stir it all up. I like to stir this with the knife I used to scoop out the peanut butter. Mix the cereal into the choco/peanut mix well.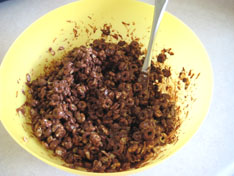 Now add some powedered sugar. You want it all coated with the powder. I kept having to add more so that it stayed white.
Now it's ready to eat. The best part about this recipe is that you can make as much or as little as you want. It can be a little personal bowl or a large family size one. I can go through a whole family size bowl of this on my own, but I did share this one with the kids :)