This flamingo craft is just too cute! It's an easy craft that uses tissue paper and paper plates and it looks adorable when the kids are done! We love to make this colorful craft during summer break because these tropical birds are so beautiful and it's fun way to do some summer learning about birds through crafting!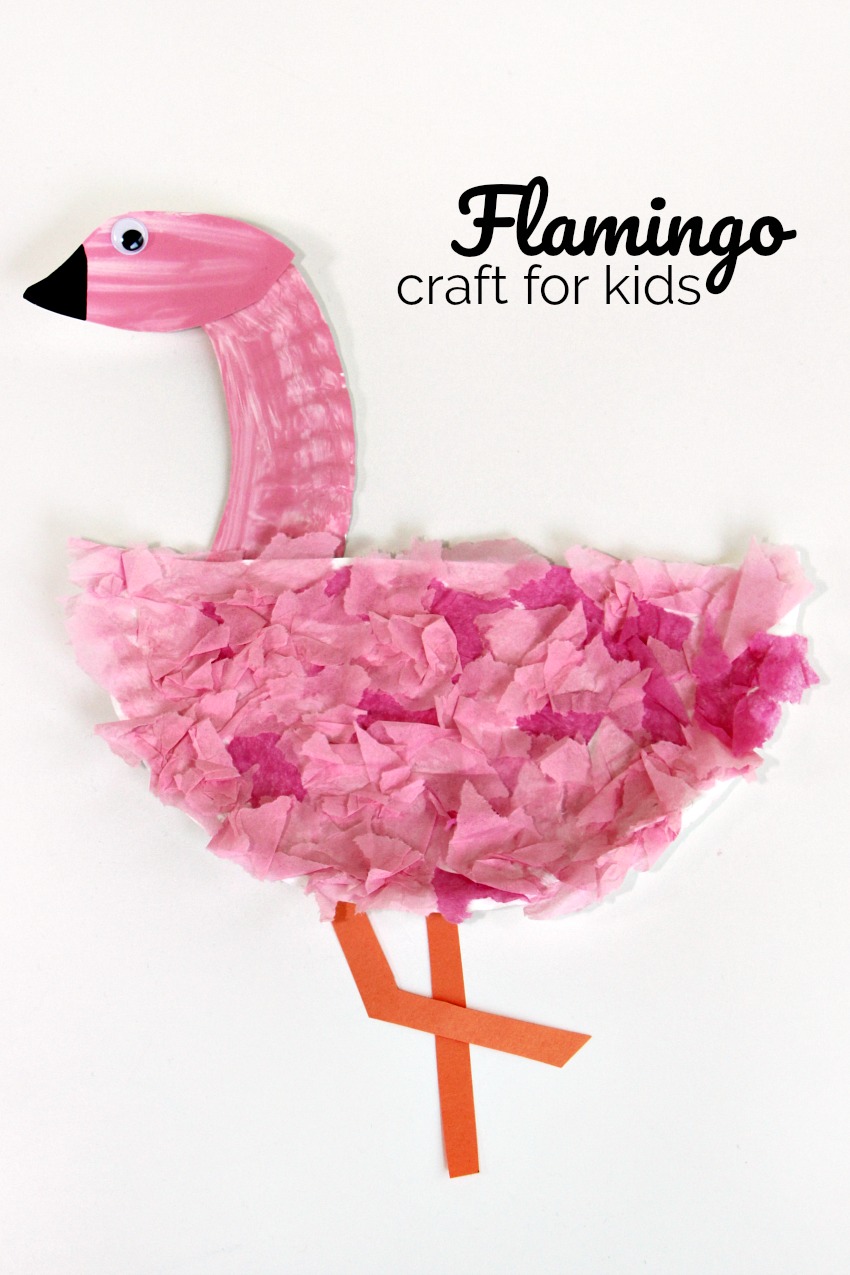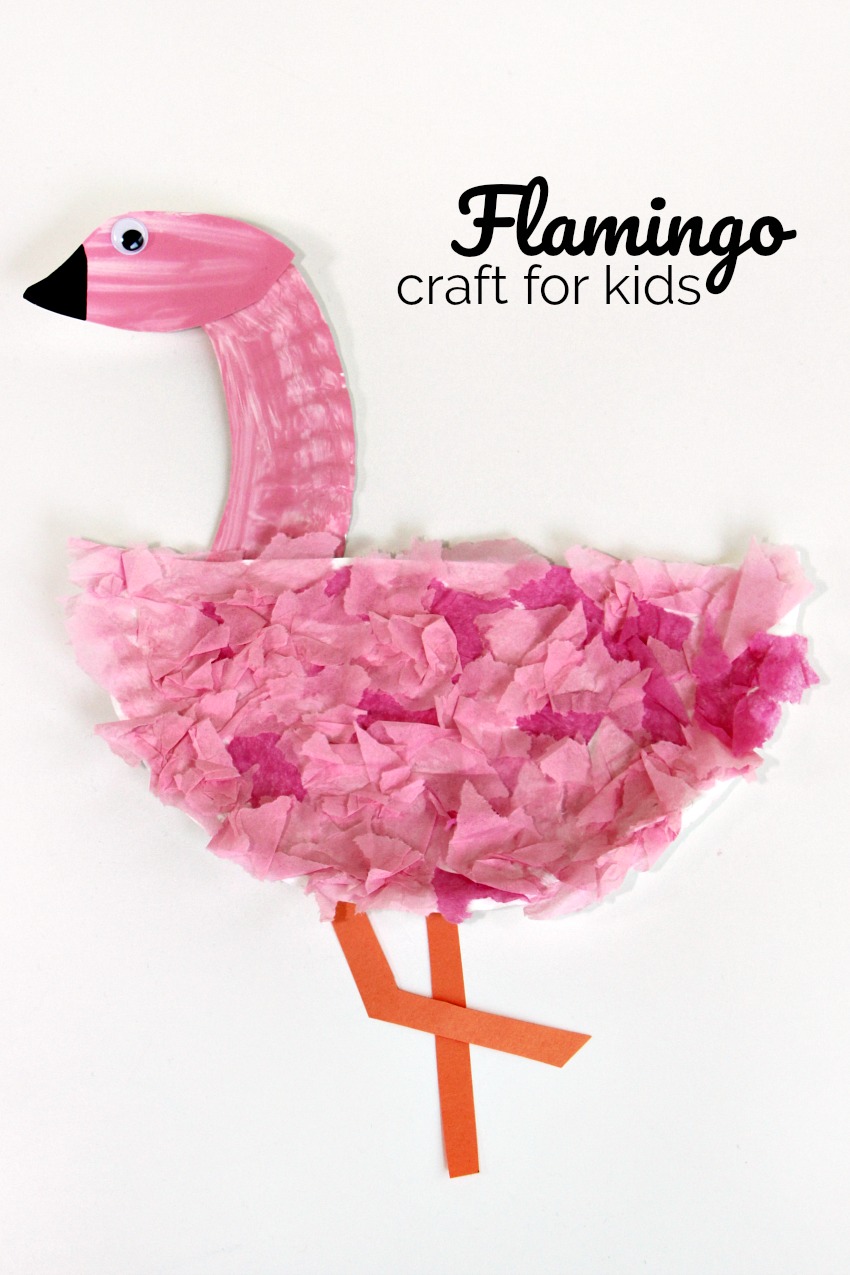 Paper Plate Flamingo Craft for Kids
Supplies
Paper plate
Tissue paper
Paint
Wiggly eyes
Glue
Scissors
Construction paper
Paint brush
Instructions
Begin this craft by cutting the paper plate in half. The bottom half will be your flamingo's body and from the top half you will cut the head and neck. Cut the neck of the flamingo by cutting about 1/2 of the outer edge of the paper plate. Next cut the head from the remaining portion of the top half. The head should be an oval shape or an oval with more of a triangular edge on one side for the beak. See the photo below for a guide to cutting it out.
Now it's time to paint and glue! Paint the head and neck with pink tempera paint. If you prefer you can have the kids color them with a marker but the paint stands out a bit more. When the children are done paining have them move onto creating the body of their flamingo while the paint dries.
Squeeze glue onto the bottom half of the paper plate, it's helpful for children to use the paint brush to evenly coat the paper plate with glue. We used the same brush that we painted with to smear the paint around, it won't effect the glue but makes clean up easier (just one brush!) and the color makes the tissue paper pop a bit more. As the kids "paint" on the glue have them add pieces of ripped pink tissue paper to the paper plate. Encourage them to cover the whole bottom with pink tissue paper to give the body a "feathery" look.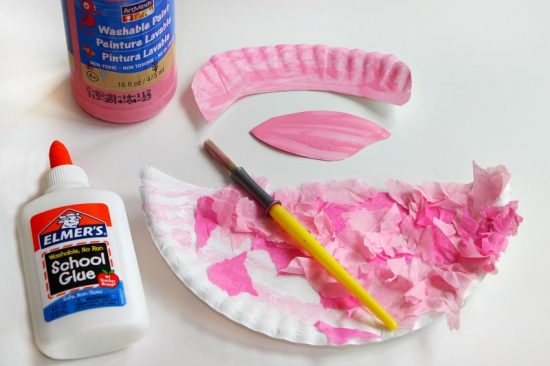 When everything has dried it's time to put the finishing touches on it and put the flamingo together. From orange construction paper cut two legs, one straight and one bent. Now color one end of your cut out head piece black. This is your flamingo's beak. Don't forget to glue on a wiggly eye too!
Glue the head to the top of the neck piece and then glue the neck piece to one end of the cut side of the tissue paper covered paper plate. The last step is glue on the legs. That's it!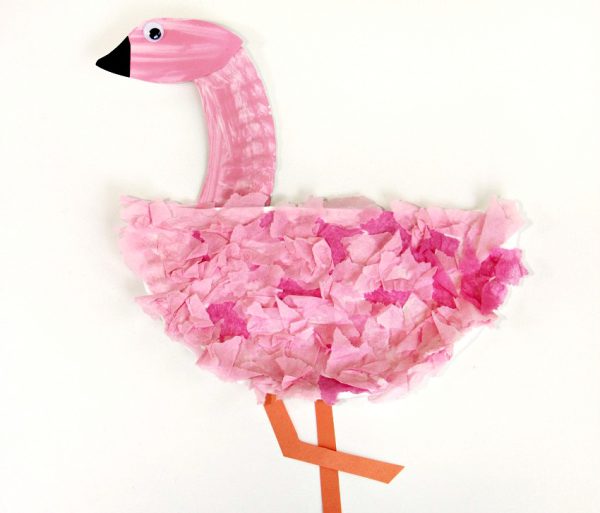 Gorgeous, right? This fun flamingo craft is sure to be a hit! Your kids will love them and they look great displayed throughout your home! Make it today, these are just too cure to pass up!