When I was nursing my second child we discovered (due to torturous days and nights with a screaming, sobbing baby that literally never slept) that she had a lot of intolerances. I slowly began taking things out of my diet to see what it was making her sick. By the time she was 9 months old, and finally slept for 3 straight hours in one night, we had discovered all 9. It was such a long process and it removed pretty much everything from my diet. I was eating really simple foods like this delicious, Turkey Cranberry Wrap. Which really wasn't too bad. The absolute worst part was dessert. It was so hard to find something that didn't contain dairy, nut products, soy, wheat, yeast, rice, etc etc etc.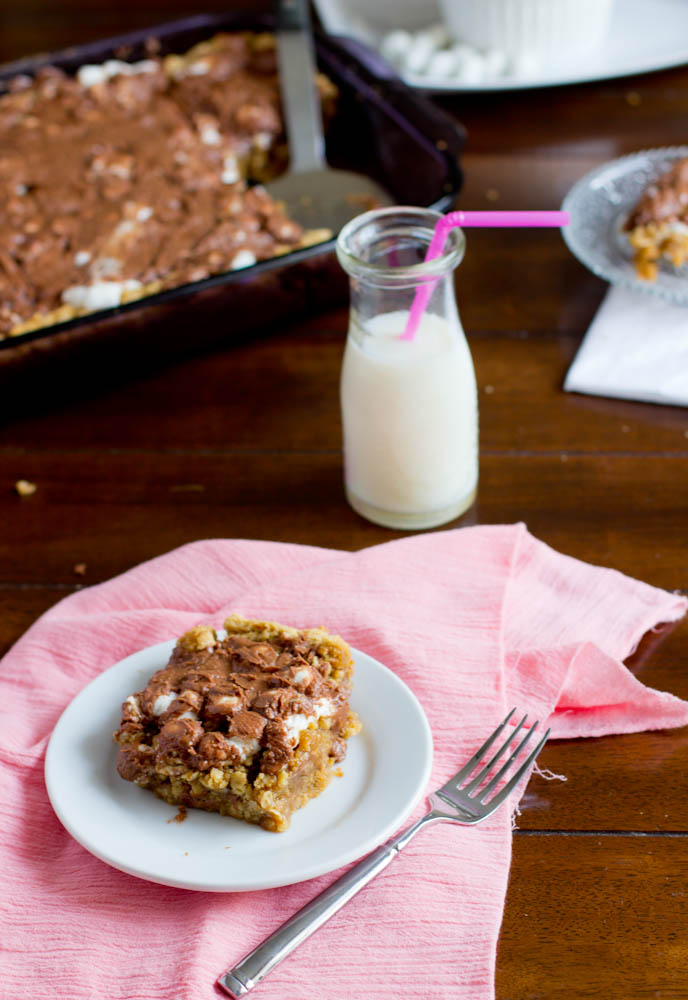 When my little one was about 10 months old I discovered a make it yourself marshmallow and graham cracker that didn't need any of those ingredients that I couldn't have. So, when I needed a special treat I would make a s'more using peanut butter (I don't know why it didn't bother her and other nut products did) instead of chocolate. Now, even though she is two years old, I still crave marshmallow and peanut butter together. I just love it.
It's kind of funny how while pregnant some things became ruined for me and I'll never eat them again, while during nursing some things became so delicious to me that I will love them forever. That's where these bars come in. I was thinking of making a dessert and immediately I knew I wanted peanut butter and marshmallow. They are gooey, chocolatey and delicious. I'm sure your kids will love them just as much as you do.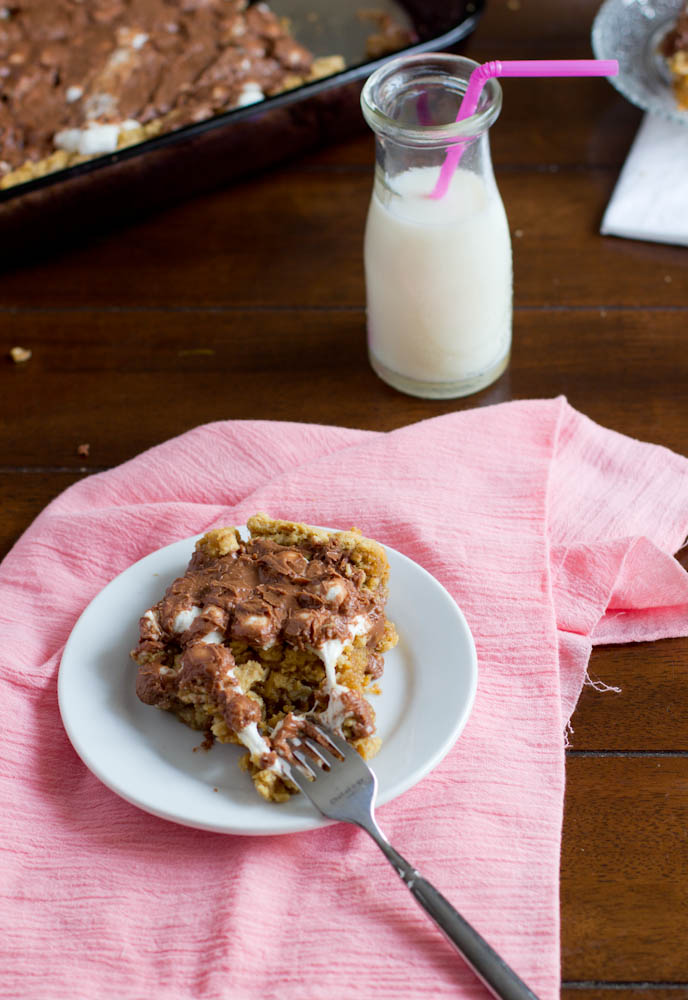 Peanut Butter Marshmallow Bars
1 Cup white sugar
1 Cup brown sugar
1 Cup butter, unsalted,  softened
2 eggs
1/2 Teaspoon vanilla
1 Cup Creamy peanut butter
2 Cup flour
2 Teaspoon soda
1 Teaspoon salt
2 Cup instant oatmeal
1 1/2 Cups Mini Marshmallows
Preheat oven to 350 degrees and prepare a 9×13 pan by spraying it with nonstick cooking spray.
Cream sugar, butter, and eggs until well blended.
Add vanilla peanut butter, mix well.
Stir in dry ingredients, including oats.
Spread into the prepared 9×13 pan and bake for 15 minutes.
Sprinkle evenly with mini marshmallows and place back in the oven for an additional 5 minutes.
Cool for 15 minutes then spread with chocolate frosting. (recipe below)
CHOCOLATE FROSTING
2 C. powdered sugar
2 T. Coco
2 T. butter
1 t. vanilla
2 T. milk
Pinch of salt
Mix powdered sugar, coco and butter in a mixer. Add vanilla, salt and milk, mix until creamy.