When I became pregnant with child number one, I developed more of my craftiness. That motherly bug really got nestled in. I soon wanted to learn how to cross-stitch with my stitching hoop, needle, and thread. I bought one of those $1 kits at the dollar store, cross-stitching a Dinosaur. I kept it for a long time hanging up to remember my humble beginnings. Soon after I completed it, I had fallen in love with the hoop, needle, and thread. Then I moved on to a Bear pattern for my son when he was born.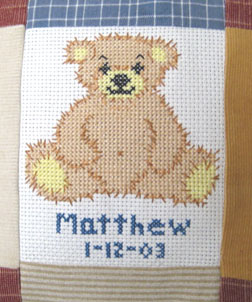 By the time I had mastered the Cross-stitch, I was turned on to a whole new world of stitching: Primitive Stitchery. I loved it. You didn't have to cross any stitches and you could follow a pattern or come up with your own if you could draw lines. I was visiting every quilt shop around town and eyeing all the great stitchery patterns. There are so many great patterns out there.
This pattern is in memory of my Grandma Passey who used to sing us this great song, Little Purple Pansies. The pattern is from Huckleberry Stitches. My sister and I made one for all of my siblings (8).
Here are a few of my favorite Primitive Stitchery Pattern sites:
Cedarberry: Great designs. Join the newsletter for a free monthly pattern.
Prim Mart: Your place to find all that is Primitive.
PatternPage: A free pattern directory.
Hugs and Stitches: Country primitive items.
Pine Mountain Designs: Cross-stitch, punch needle, and stitchery patterns
I need to start stitching again. I have even come up with a line of chicken patterns myself. When I get them scanned, I will post them on the blog as free patterns. What great stitchery websites do you visit?