Serve your soup in fun Pumpkin Soup Bowls this holiday season.
I bought 6 Tiger Striped pumpkins. I liked their size, kinda in between, no one can eat a large pumpkin size soup serving, well maybe someone can.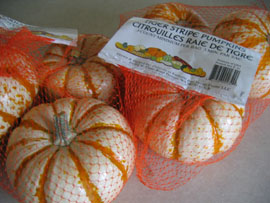 Then, carve out the top and scoop out the insides. You are going to want to scrap every last little string in there so that someone isn't trying to slurp down something stringy.
Now just pour in soup and replace the top to keep it warm. The soup recipe that filled these pumpkin bowls came from Sabrena for our fun Recipe Club.
Pumpkin Soup:

1T Olive Oil, 2 Green Onions sliced, 2 celery stalks, 1 clove garlic, 1 1/2 lbs. butternut squash, 15 oz. can pumpkin puree, 6 cups Chicken Broth, salt and pepper, 1 T rosemary, cream to taste

Heat oil in a large saucepan over medium heat. Add onions, celery, and garlic and cook until softened, 5 mins. Add the squash and pumpkin, then broth. Simmer until the squash is tender, 25 mins. Stir in 1 tsp salt and 1/4 tsp pepper. Ladle the soup into a blender in batches and puree until smooth. Add in cream after blending to taste. Divide into bowls and top with rosemary for garnish.
You can do this as your soup serving bowl too. Just carve a large pumpkin out and fill with your cooked and warmed up soup. You could line the pumpkin with plastic wrap or another clear bowl if you don't want it touching the pumpkin. Very festive and ready for Fall.