I'm always looking for ways to spice up my veggies for dinner. I love asparagus, but there's only so many ways to eat it as a plain ol' side dish. For today's recipe, I'm adding in a few other yummy ingredients to bring asparagus to whole new level! This recipe can be your main meal or served as a super awesome jazzed up side dish.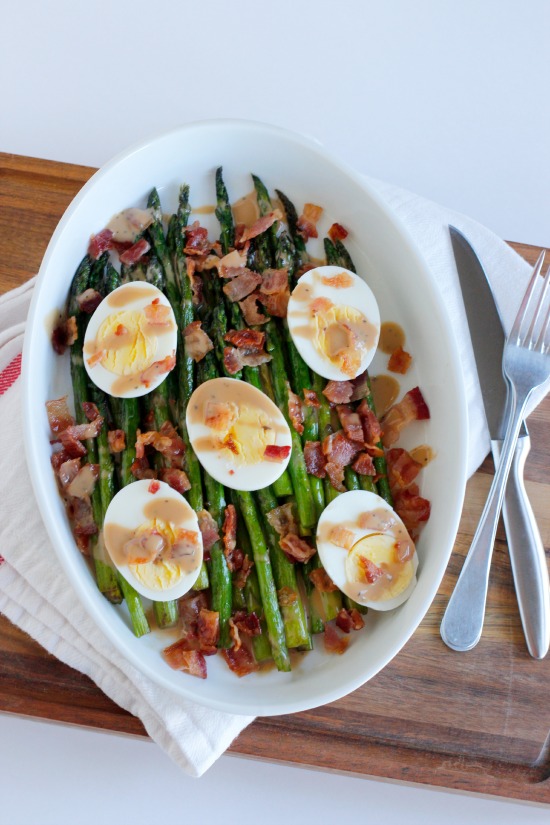 Recipe for Roasted Asparagus Dish with Drizzled Balsamic Dressing:
asparagus
bacon – cooked and sliced into bits
hard-boiled eggs
cooking oil
salt & pepper
Add 1 T. cooking oil to a pan on medium heat. Place your asparagus into your pan and sprinkle salt and pepper to season. Roast for 5-7 minutes, turning them evenly, until they soften and start to brown up a bit. Remove from the heat and plate your asparagus, letting them cool a bit.
Cut your hard-boiled eggs in half and place on top of your roasted asparagus.
Sprinkle on your crunchy bacon bits.
With a spoon, drizzle your dressing over the top of your asparagus, bacon, and eggs.
It's ready to eat! Perfect for a main dish for the family or to bring as a side dish to your neighbor's potluck!
I have been invited to participate in a Marzetti ambassador program. This post is sponsored by Marzetti and product has been provided by them. I'll be sharing my ideas for family friendly recipes using their products all year long. Be sure to follow Marzetti on Facebook and Pinterest for more information. Find more recipe ideas and meal planning at Marzetti Kitchens!