The 86th Academy Awards are now only a few days away, and I couldn't be more excited.  I've watched the Academy Awards ever since I can remember.  My mom has always liked watching the red carpet events and my dad liked watching the actual awards ceremony.  I had no idea what any of it was all about when I was little, but it didn't matter to me.  I just loved that Academy Awards, and I still do.  As soon as the nominees are announced, I become extremely diligent in attempting to watch as many of the nominated films as I possibly can.  I usually never have time to watch as many films as I'd like, but I typically manage to see a good number of the Best Picture nominees.  I've already seen 6 out of the 9 films nominated this year, and I'm hoping that I'll have time to squeeze in just one more film this upcoming weekend.  Ahh, I love awards season!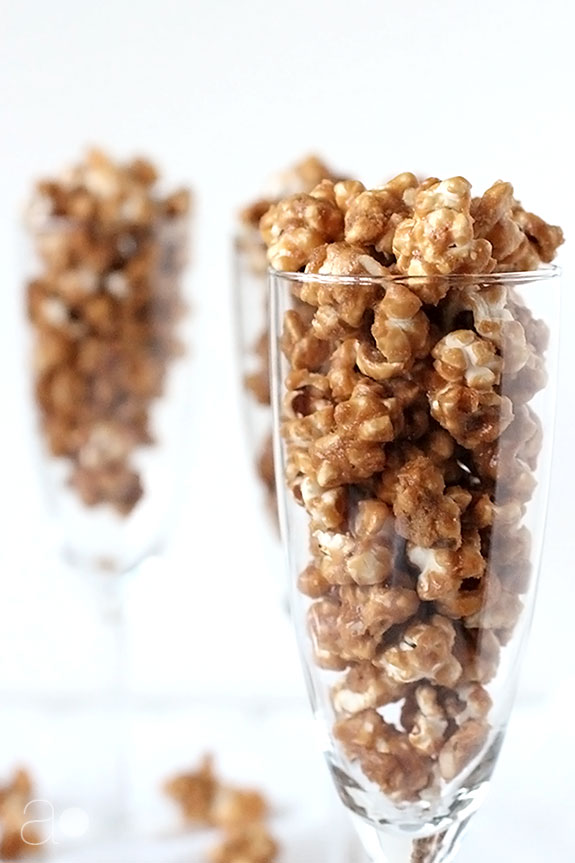 Last year, my college roommates and I decided to throw a potluck style "fancy appetizer" party to watch the Academy Awards.  Everyone had to bring their interpretation of a fancy appetizer or snack, and we loaded up our plates full of food and gathered around the television to watch the awards ceremony.  Our Oscar's party was a huge success, and I'm a little sad that it won't be happening again this year since we've all graduated!  To make up for this, I decided that this year I would make myself a really delicious treat worthy of Oscar night to enjoy while watching the awards ceremony.  This Oscar's-worthy salted caramel cashew popcorn is the perfect snack. It's rich and indulgent, and also easy to make!  It's the perfect snack to enjoy at an Oscar's party for one or an Oscar's party for ten.  No matter how many people you plan on watching the ceremony with, this salted caramel cashew popcorn needs to make an appearance!
This Oscar's-worthy popcorn is super simple to make.  It sounds fancy, but in reality, there's just a few additional steps that need to be taken to bring an ordinary snack to a new level.  I always have plain popcorn kernels on hand because I love freshly popped popcorn as a snack, but pouring a freshly made caramel sauce on top makes one of my favorite snacks extra special.  The caramel sauce is a mixture of butter, corn syrup, brown sugar, and salt, and adds a lovely deep amber color to the popcorn as well as tons of flavor.  The cashews and extra sprinklings of coarse salt make the caramel corn feel a little more elevated and unique.  Cashews were my nut of choice for this recipe, because they're rich in flavor, but feel free to substitute for your favorite nuts if you like.  I think pecans would work really well in this recipe as well!  The caramel coated popcorn is then baked in the oven to dry out the caramel and make it crispy.  Once the popcorn has cooled (please don't forget this step!), you're ready to enjoy!  Serve it in a big bowl to pass around among your friends, or serve it in champagne flutes for a fun and fancy individual snack to enjoy during your Academy Awards viewing party.  If I were hosting a party this year, this is definitely the snack I would make!
Salted Caramel Cashew Popcorn
1/2 cup popcorn kernels
1 tablespoon oil
1 cup coarsely chopped cashews
1 stick plus 2 tablespoons unsalted butter
1/3 cup light corn syrup
1 1/4 cups brown sugar
1 1/2 teaspoons salt
1/4 teaspoon baking soda
Directions
Begin by popping the popcorn.  In a large heavy pot with a tightly fitting lid, heat the oil over medium heat.  Drop in three corn kernels and cover the pot.  Once you hear those three kernels pop, pour in the remaining popcorn and cover the pot again. Cook the popcorn over medium heat, making sure to swirl the corn kernels around in the pot as they cook and pop to keep them from burning.  Once the pops have slowed down, turn the heat off and pour the popcorn into a bowl. Add in the cashews and mix to evenly combine.
Preheat the oven to 250 degrees F.  In a large, heavy bottomed saucepan, melt the butter over medium heat.  Stir in the corn syrup, sugar, and 1/2 teaspoon salt.  Cook until the sugar dissolves, stirring only once or twice.  Raise the heat to high, and bring the mixture to a boil without stirring.  Keep heating the mixture until a candy thermometer reads 248 degrees F, about 3-5 minutes.  Remove the caramel sauce from the heat and stir in the baking soda.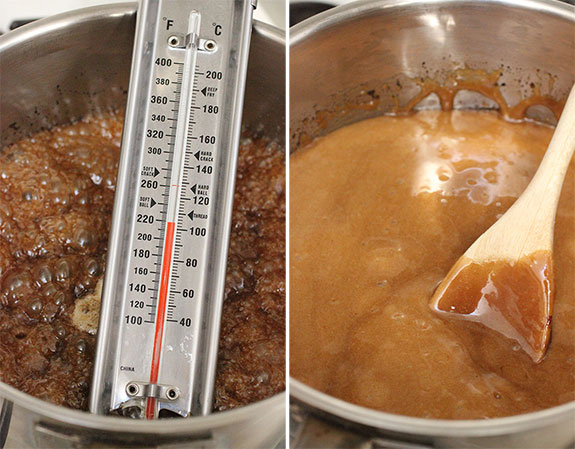 Pour the caramel sauce over the popcorn mixture, stirring quickly to evenly coat all the popped popcorn and nuts.  Divide the popcorn mixture among two sheet pans and bake them for 45 minutes, stirring twice during the baking time.  You'll know the popcorn is ready if the caramel sauce crisps quickly upon being removed from the oven.  Immediately sprinkle on the remaining salt, and let the popcorn cool completely before serving.  Enjoy!