I was going to wait on this Spring quilt, as I thought Easter wasn't going to be here until April. But since it's in less than 2 weeks, I sped it up and got this spring quilt done to display for the Easter holiday.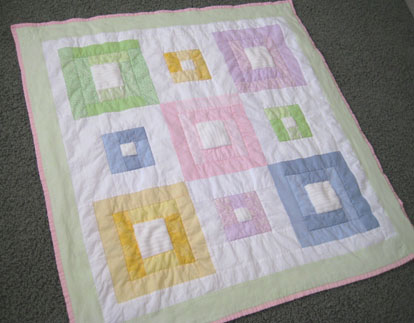 This quilt pattern is supposed to be easter eggs with a little white fluffy bunny in the middle of each. It is a log cabin pattern, sort of. It took on a life of its own after I got started. It is about 42 inches square, just enough to hang on my couch.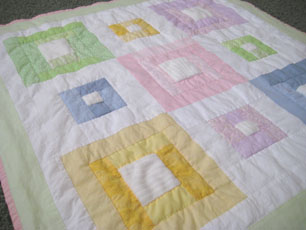 I was also going to try to machine quilt it, but it kept puckering and I didn't want to keep using my seam ripper. So I ended up hand sewing this one. I love to hand sew quilts, I have done 2-3 that way. It makes it feel very old fashioned. Here is what the back looks like with the hand-sewn squares.
I am very happy with how it turned out. It is sprucing up my living room for Spring, super bright and cheery.