This is a fun way to decorate the Thanksgiving table, as well as getting everyone sitting at the table involved in the spirit of Thankfulness.
To make the centerpiece, find a brown colored pot. It could be terra-cotta, ceramic, really any kind of flower-type pot. Then fill it with some type of filling. I used Spanish Moss. You could use a flower block and cover it with leaves or moss. Just fill it with something that will allow the feathers to hold up.
Now, using pipe cleaner, make the turkey's neck and head. Brown pipe cleaner would be best here. I used 3 pieces to make it a thicker head. Curl one end of the pipe cleaner into an oval circle, making the turkey's head. Then cut a small piece of red paper or red pipe cleaner, and attach it to the oval circle, making the turkey's wattle (which I just learned are only on male turkeys.) Stick the turkey's head into the pot as well.
Next, cut out feather shapes from colored paper. Glue or tape popsicle sticks to one end. Stick the paper feathers into the pot.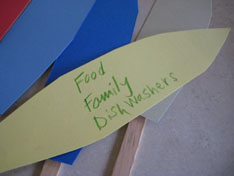 Now your center piece is ready for the guests. Provide pencils or crayons and have each guest take one feather and write 3 thing they are thankful for on their feather. This is best done while people are arriving. Then once the food is devoured, you can take some time out to have each person read what they wrote on the feather. When the person is done reading, they stick their feather back in the pot. Continue around the table until all the feathers are replaced. It is fun to share what we are all thankful for and it makes for a great centerpiece.