Oh look, another post where Heather paints something random with acrylic paint! What can I say, acrylic paint is one of the cheapest and most versatile art/craft supplies around! This time, we're painting t-shirts and onesies. You don't need anything special to paint clothing – don't bother checking out the fabric paint section at your craft store. You can use that regular old acrylic craft paint, and it will stay permanent and vibrant!
My three year-old son and I had fun decorating t-shirts with this vintage stamp set we have. We even decorated a onesie for his new brother. I like the effect of the imperfect stamping en masse. Pattern is such a great element of design – repetition makes things intentional! This shirt reminds me of some of the surf-inspired t-shirts kids were wearing in the late 80s, early 90s when I was in grade school and junior high.
You can use this technique on new clothes, or use it to spruce up stained clothes (disguise the stains under paint!) — great for kids' clothes that have seen better days!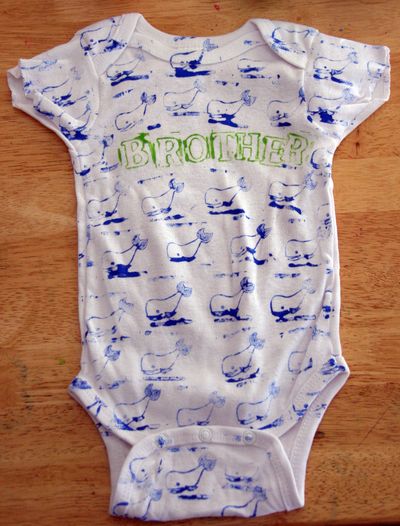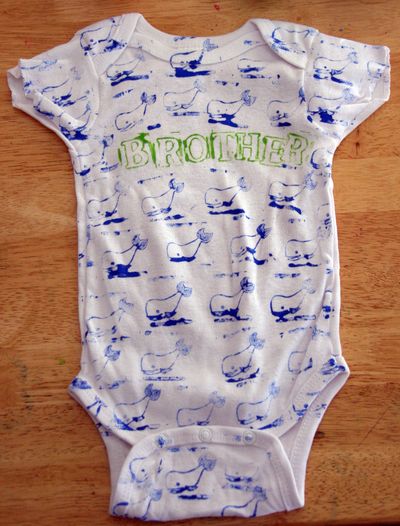 Acrylic paint will stay permanent on clothing. Once it dries and is heat set with a dryer or iron, it's there forever. Make sure you DON'T use washable acrylic paint! It won't work for this project.
Project Estimate:

T-shirt, on hand or $1
Acrylic craft paint, about $.50 per bottle or on hand
Stamps, on hand
Iron or clothes dryer, on hand
Total: FREE and up
The Method:
Stamp or otherwise make a print on a t-shirt using acrylic craft paint.
When paint is dry, throw it into the clothes dryer until dry to heat set, or if you prefer to iron, put a thin dishtowel over garment and iron (no steam) until dry.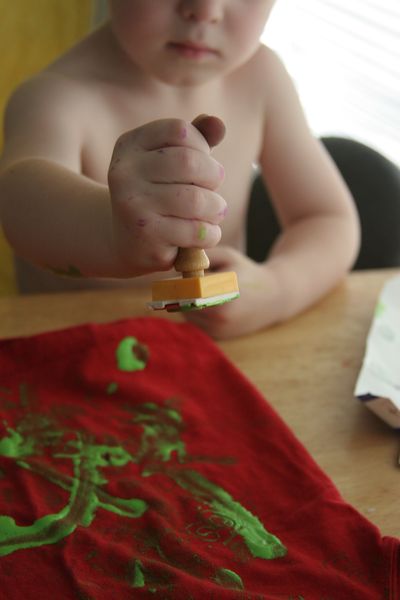 The paint should be fixed on the garment now!
Heather Mann is a regular contributor at Make and Takes. She's is the mother of three boys, ages 3, almost 2, and newborn. She publishes Dollar Store Crafts, a daily blog devoted to hip crafting at dollar store prices, CROQ Zine, a print magazine devoted to hip crafting, and also CraftFail, a community blog that encourages crafters to share their not-so-successful craft attempts.