In the last year, I have loved making pies. There is something about a homemade pie that just makes you feel good. If I only had a large window sill to cool my fresh warm pie on, I would be complete. I love to make a Chicken Pot pie from scratch that is delicious, (thanks Becky W.) I have bought pie shells from the store pre-made and they are good, but it love to make the crust when I can because it makes all the difference. My technique is not perfected like some, but it tastes fabulous all the same. Plus I like that scratchy look anyway, it's more homey.
Chicken Pot Pie Recipe:
1/3 c. butter                 1 1/2 c. chicken broth
1/3 c. chopped onion   2/3 c. milk
1/3 c flour                    3 c. cooked chicken
3/4 t. salt                     2 c. frozen mixed veggies
1/4 t pepper
Heat oven to 425 degrees. In medium saucepan, melt margarine. Add onion, cook 2 min. until tender. Add flour, salt, pepper. Stir until well blended. Gradually add broth and milk. Cook until bubbly and thickened. Stir in chicken and veggies.  Spoon filling into crust. Place second crust over filling and flute. Cut slits on top crust. Bake for 30-40 min. or until crust is golden brown. (You may want to cover edges of crust with strips of foil 10-15 minutes into baking so that they don't burn)
I go to Martha for her pie crust recipe. It is no-fail and so easy. I wish I had a food processor like her to make it even easier, but I do mine by hand and my kids love to help. There is something about making and baking by hand. I always think about what it used to be like when fancy gadgets were not in existence. I learned in my highschool home-ec class that you could make cookies with just a spoon, WHAT, I thought you had to use a Kitchen Aid!!
Go here for Martha's Pie Crust Recipe.
I have also collected a fun recipe Pie Chart from a Martha Stewart Living Magazine that gives the recipe for 4 fruit pies in one cute small pie wheel. I had it color copied on card stock paper, then laminated it to keep forever. Here is the Pie Chart link to get the download from Martha. You can copy it right off your computer onto cardstock, then get a brad fastener to hook them together. I can't wait to try the Apple recipe this fall, it's coming sooner than I think.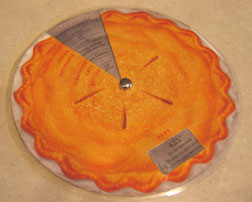 Have fun with Pie making. Get your hands messy!