Can I just tell you how magical the Timpanogos Storytelling Fesitval was this last weekend? I'm sad to say that I had never been before and it's practically in my back yard! This was the 20th year of the festival and it was absolutely fabulous.
Here's my kids enjoying the puppetry!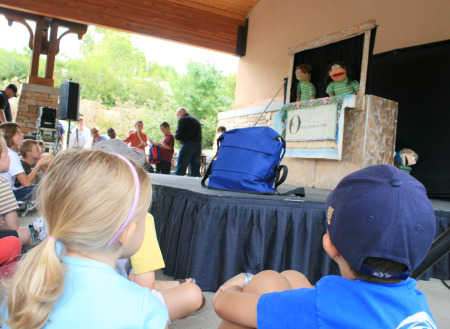 I took my son to 'Bed Time Stories' and it was so fun to watch how enthralled he was at every storyteller. They have a true talent! I tried to retell one of the stories to my sister and did a horrible job. These storytellers are so gifted, turning an ordinary story into something magical!
My parents and I hit up the 'Laugh In' night, the culmination of the festival. 12 of the best storytellers from around the world were right there! I loved Angela Lloyd's washboard playing, and Donald Davis's snake story had my mom in hysterics! I was a child again, felling like I was there in the story!
Have you ever been to a Storytelling Festival? I can tell you that I'll be going again next year!