Our family loves these Trick-or-Treat cookies, a lot. The dough is soft and pliable and full of fall – honey, molasses, raisins, and spices. So many great combos for the Halloween season!
For the cookies in the pictures, I used half whole wheat flour and omitted the raisins (didn't have any on hand). The only problem was that the dough was so tasty that we didn't end up baking very many cookies.  (Good thing I froze half of the dough for later!)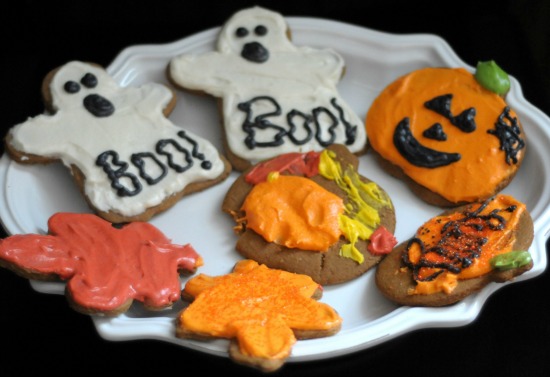 This is a nice alternative to the normal sugar-laden cookie doughs. It's lightly sweet. If that bothers you, load up on the frosting. That will more than make up for it. The cookies are also very good sans frosting and work well as the "bread" for ice cream sandwiches.
Also, yes. They are really just gingerbread cookies with a snazzy new name. But try them. They are one of our favorites.
This recipe makes a lot of cookies.  It halves well, but it also freezes well, too.  Just make sure to keep the dough tightly covered or in a Ziploc bag so it doesn't dry out.
Enjoy and Happy Halloween!
Trick-or-Treat Cookies
Recipe source: Mrs. Hilton, my neighbor from 10 years ago.

Ingredients:
1 cup unsalted butter
1/2 cup brown sugar
1/2 cup honey
1/2 cup molasses
1 egg
5 cups flour (can do half whole wheat)
1 1/2 teaspoons baking soda
1 tsp. cinnamon
1 tsp. ginger
1 tsp. salt
1 cup raisins, chopped (can sub mini chocolate chips or other dried fruit)
Method:
Cream butter and sugar until light and fluffy. Add the egg and beat well. With mixer running on low, slowly add the honey and molasses. Beat well.
Whisk together the dry ingredients. Add a cup at a time to the creamed mixture.
Scrape the sides and bottom of the mixing bowl to make sure there isn't any flour left. Add the raisins. Transfer the dough to an airtight container or large Ziploc bag. Chill until very cold–about 4 hours or overnight.
Roll dough out on a lightly floured surface and cut with cookie cutters.
Bake cookies on parchment-lined baking sheets at 375 degrees F for 6-7 minutes (shorter for smaller cookies, longer for larger cookies) or until cookies are firm to the touch and lightly golden. (If you like crisp cookies, bake for longer.)
Decorate as desired.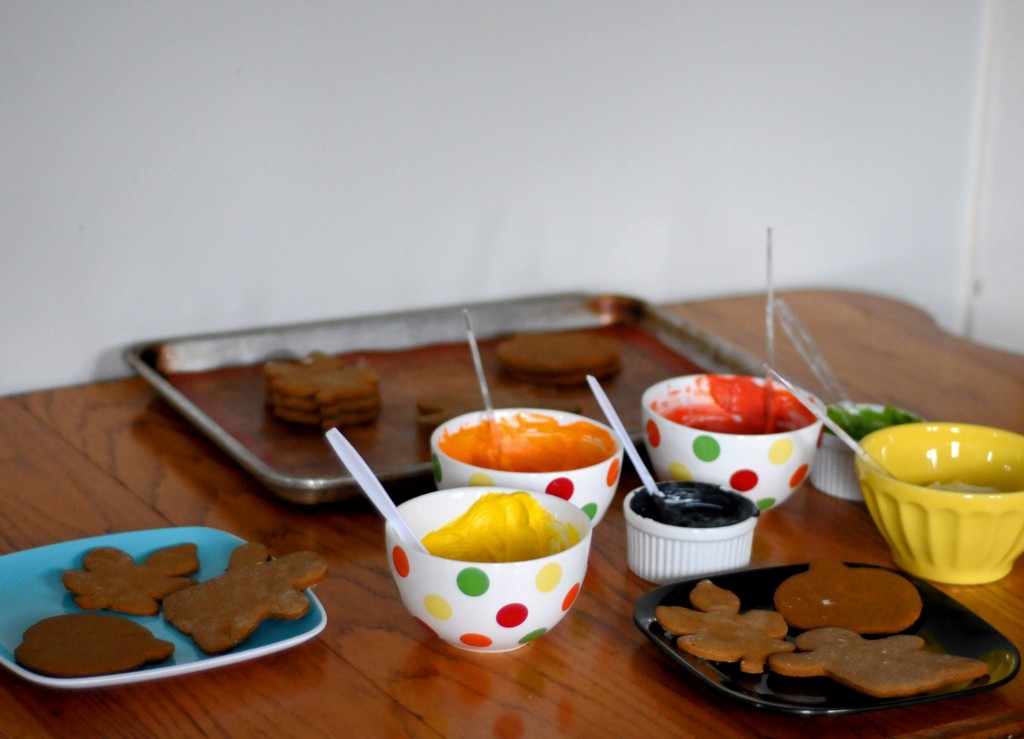 Frosting
1/2 cup butter
3 cups powdered sugar
1/2 cup half and half
Beat until fluffy. Tint with food coloring. Store in the fridge until ready to use. Let come to room temperature before decorating cookies.