We are big fans of mexican food. My kids gobble up tacos, enchiladas, and burritos. For today's dinner, I'm bringing you another family favorite recipe for our Turkey Taco Pie. It's a great way to serve up everyone's favorite food in a new way, helping to spice things up.
Yes, it's that good. And my kids love it too!
Recipe for Turkey Taco Pie:
1 lb. ground turkey
2 medium or large tortillas
2 cups shredded cheese
1 cup salsa of your choice or pico de gallo
extras to taste: corn niblets, olives, jalepenos, taco seasoning
toppings: sour cream, salsa, cilantro
Method:
1. Cook your ground turkey in a medium frying pan until cooked completely through. Add salt and pepper to taste.
2. Add in your salsa and extras to the hot pan and stir. Set aside.
3. Prepare your baking dish, preferably a pie pan, with cooking spray. Then add in all the layers for the taco pie.
Layers:
tortilla
cheese
turkey mix, with extras
more cheese
another tortilla
more cheese
Gotta love that cheese. It's like the glue for the pie, making it all come together.
Bake your pie at 375* for 20-25 minutes, or until bubbly.
Remove from oven and let cool. Slice it up in pie shaped slices and add sour cream, salsa, and some cilantro to top.
Yield: 4-6 servings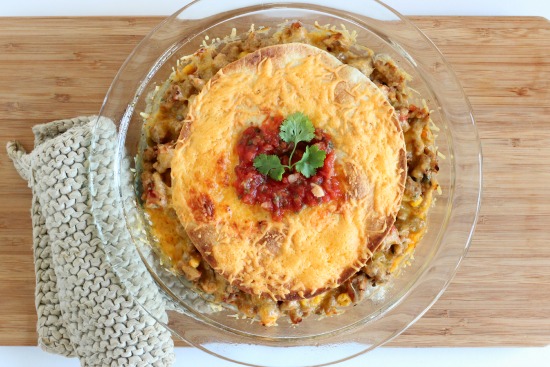 It's ready for a festive family dinner.
*This post was sponsored by Butterball. The taco recipe and meal ideas are my own.