I have had my kitchen table for too long, but it is not quite time to replace it. So I needed to cover it and give it a little color. I wanted to make a fall placemat, but I also wanted to make a Christmas placemat for the next month. I decided to combine the two and make a Double-Sided Placemat. One side is for Fall and one side is for Christmas, two holidays in one.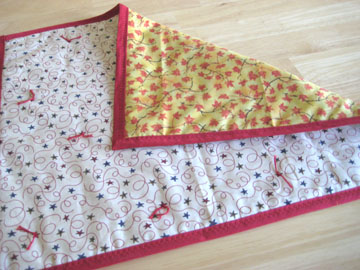 I bought 2 fat quarters of fabric, one has leaves for fall, the other has stars and swirls for Christmas. Then I bought red double bias tape to bind the placemat together. The red color is perfect because it matches the Fall colors and the Christmas colors. I did cut down both fabric pieces, you will need to decide how large you want yours, square or rectangle.

MY LATEST VIDEOS
Then I laid one piece down (right side down). I cut a piece of batting the size of the fabric. I laid down the batting on top of the first piece and laid down the second piece (right side up) on top of the batting. They make a little sandwich.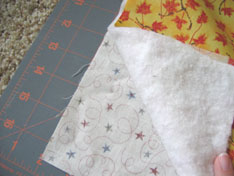 Making sure it was all flat and straight, I pinned the whole thing. The placemat is so small that it wouldn't fit onto a quilt frame to get it all straight, so I had to just keep checking the bottom piece and make sure it wasn't bunching.
Next, I got my red binding and sewed it around the edges. Here is a picture of how I fold each corner. I sew to the end of the edge, then take the piece off the machine. Then fold the corner over and start sewing again. Repeat this for 3 of the corners. For the last corner, I just fold the binding under and sew it to the end. This may not make sense, so try to look at the photos, or do whatever works.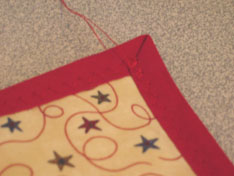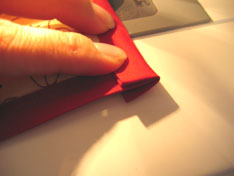 Once the piece has the binding, remove all the pins. I then tied the quilted placemat with red DMC floss thread (all 6 stands). I tried to follow a pattern with the thread, making it even all around.
Now you are done and have a fun quilted placemat that is double-sided for 2 holidays in one. Simply flip the placemat over on December 1st.