Last week I left my crochet hook at home to join the knitting craze at Vogue Knitting Live in Seattle! It was so much fun. Yarn was found in every corner of the venue, even hanging from the rafters! I loved learning about so many great yarn and knitting companies, listening to fashion trends and panels, and I learned how to knit for the first time. Here's a wrap up of all the yarn madness!
Cool Products and Designers
Kelly Fleek Sculpture – You need to see these pieces in person. They are amazing. I highly recommend purchasing one and wearing it on a super special day!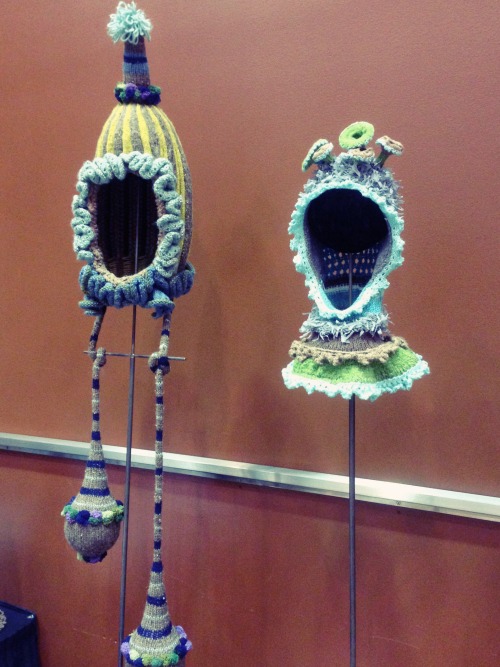 Suzanne Tidwell Designs – These bright knit blocks were hands-on for you to build something knit-tastic! Suzanne's designs were also on display hanging throughout the marketplace.
Miss Purl – These are darling yarn notions to bling out your knitting as you work! I love the idea of darling stitch markers and cute little tins to put them in!
Dave Yocom Wood Creations – Oh how I love these bowls! I'd never seen anything so cool for holding your yarn, keeping it from tangling. Such amazing work from designer Dave Yocom.
There were also some fabulous panels and discussions. Fashion and color trends, knitter's yoga, yak yarn discoveries, and men in the knitting world. Loved it all!
I learned how to knit at the Yarnspirations table and I'm excited to keep working on it. It's definitely different than crochet, but just as fun. I'm slow, but I remember being slow learning crochet too. So I'm going to keep it up and get better. There are loads of fun patterns and projects to make with knitting.
Vogue Knitting Live also has events in Chicago and New York. Check them out and join the fun!