My Pinterest feed has been filled with all kinds of foods you can make in a waffle iron – from hash browns to cookies to French toast. We decided to try some creative waffle iron cooking with one of my girls' favorite lunches – grilled cheese sandwiches. They were a hit and so simple!
First, gather your grilled cheese ingredients:
bread (we used whole wheat)
slices of your favorite cheese
butter
We kept our grilled cheese sandwiches classic-style, with just some slices of organic American cheese. Use your favorite cheese, plus any other add-ins you like. Sliced turkey or ham, thinly-sliced tomato, or even a slather of pesto would be delicious!
Slice off the crusts, if you like, and butter one side of each slice of bread.
Assemble sandwiches on a preheated waffle iron, just like you would make one in a pan – bread with butter-side down, cheese in the middle, and bread with butter-side up.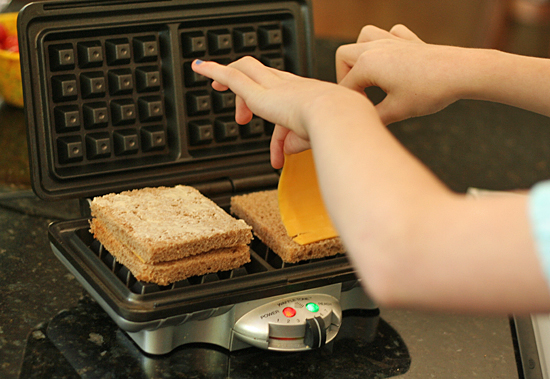 Close the waffle iron lid. Ours wouldn't close all the way at first, but we gently pressed it down a few times as the sandwich cooked. Check your sandwich periodically – our grilled cheese took about 3 minutes on medium heat. When the bread is golden brown, your waffle grilled cheese is finished!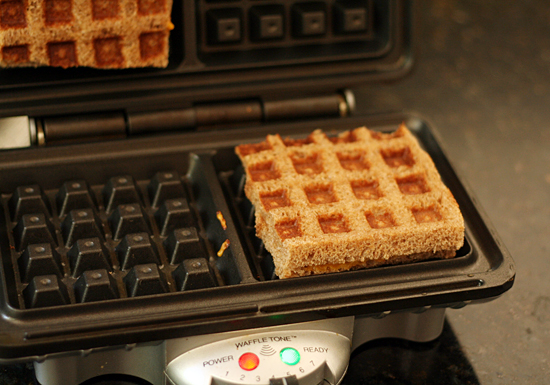 Carefully remove with fork or tongs and enjoy! My girls were seriously impressed by this simple variation on a grilled cheese. What a fun lunch or after-school snack that kids can make themselves with a little supervision.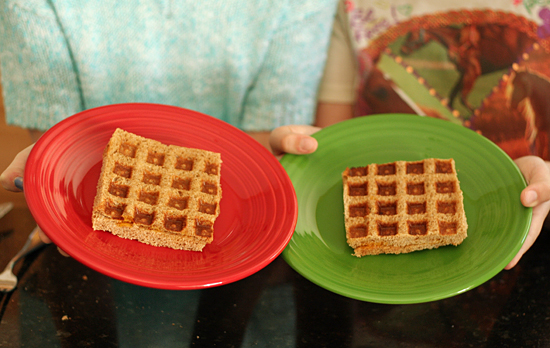 Have you cooked anything besides waffles in your waffle iron? We're excited to try some more waffle iron recipes!