Easiest. Recipe. Ever – no joke! This homemade bread is simple to make and so yummy to eat. Thanks to my sweet brother, Ramon, who recently came for a visit, I've finally learned to make this delicious recipe for homemade bread – Artisan Bread in 5 Minutes a Day by Jeff Hertzberg and Zoë François.
If you've been intimidated to make homemade bread, your store bought days are over. I cannot tell you how easy it is to make this bread… so I'll show you! Yeast is one ingredient I still don't quite understand and this recipe allows for you to just dump it in with the rest of the ingredients. No need to spend any time letting it foam/raise/bubble/activate/whatever it does. And you can put this dough in the fridge for up to two weeks, letting you bake homemade bread anytime you want. I think I'm in LOVE with Jeff and Zoe and I'm ready to buy all their books!
Homemade Bread Artisan Recipe
makes 3 loaves
Ingredients:
3 cups lukewarm water
1 1/2 tablespoons granulated yeast
1 1/2 tablespoons kosher or other course salt
6 1/2 cups unbleached all purpose flour
cornmeal for pizza peel (optional)
Method:
1. In a very large bowl, add your flour, yeast, and salt.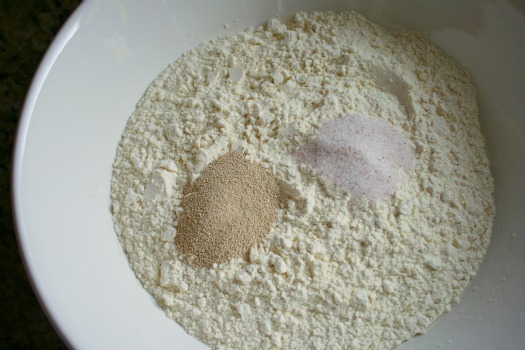 2. Pour in your water and stir until combined, just a few minutes.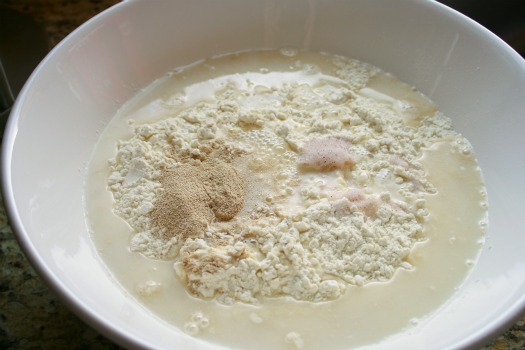 3. Cover your bowl with foil or greased plastic wrap for 2-5 hours. We left it for 5 hours and it turned out just fine, yay!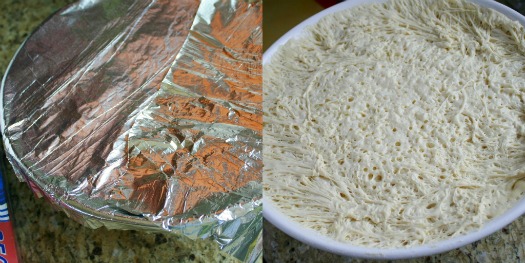 4. Divide your dough into 3 loaves with a knife. Cover each loaf with flour and form it into a ball.
5. Lay onto a baking sheet with a silicone baking mat or onto a pizza stone sprinkled with cornmeal. Let this dough rest for about 30 or so minutes.
6. With a sharp knife, slash the top of each loaf into 3 lines or a criss-cross pattern. This helps let out some steam in the dough. If you don't slash your bread, the bread will most likely make it's own tear somewhere during cooking.
7. Preheat your oven to 450 degrees and add a small pan filled with 1 cup of water on a lower rack for a water bath. Bake for 30-35 minutes.
8. Place your baked bread on a baking rack to cool.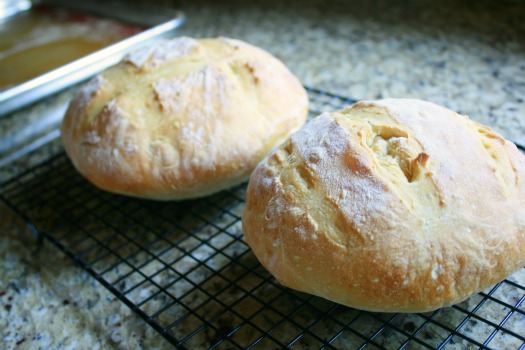 Now slice and add lots of butter or strawberry jam. Then revel in your new homemade bread baking skills, cuz' you did it! You baked bread! Wasn't that all too easy?! I told you! Next time, I'm going to try this with half white and half wheat flour. I'll let you know how it goes.
Thanks to my brother, Ramon, for taking the time to teach me. It's been fun to have a few members of my family join in on the Make and Takes fun!!