I've asked a few fellow bloggers to share what their plans are for the summer and I'm sharing their words below. Lots of fun stuff, hopefully you'll find something here that will inspire you with your own family! And share what your summer plans are in the comments!
"We're going to take the training wheels off of Laurel's bike. And then practice having her bike around at a grassy park with me trotting along holding the bike while she finds her balance point. I imagine this will be excellent exercise for both of us!"  Christine of Bostonmamas
"We are staying creative and having fun in the sun by moving our crafts outside" Cindy of Skip to My Lou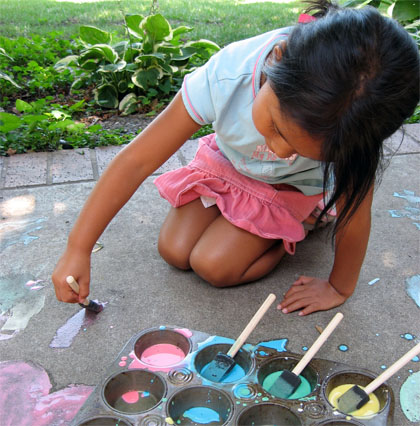 "In the summer we host an "Art Group" in our neighborhood, I let the kids have tons of fun with art, make a huge mess and then I let them run through the sprinklers to clean off before I send them back home." Vanessa of I Never Grew Up
"During the summer, we love going on lots of road trips – including visiting my parents in Southampton, NY on weekends where the kids hit the beach, swim, go bike riding and read!  In late July, we'll be loading up the car and taking off for one of our favorite New England destinations – Block Island.  While we're there, we will spend one week relaxing with friends at the beach, eating tons of great seafood, biking and much more!" Beth of Rolemommy
"I'm going to help coach the summer swim team and watch my oldest son swim a lap for the very first time!" Audrey of Mom Generations
"We're going berry picking: Strawberries in June, Raspberries in July, Blueberries in August." Heather of Dollar Store Crafts
"I like to pack up some stomp rockets and head out to the park. The boys love to chase them around all morning." Heather of Rookie Moms
"Last summer we read Harry Potter and the Chamber of Secrets. It all started with me deciding that I don't want my kids to see the movie until they've read the book (which is now a universal rule at our house). We did it with Percy Jackson during the school year and they loved it. When we finished the book we had a big "jammie movie night" with popcorn and candy and sleeping bags and neighbor kids…the kids loved it." Rachael of Todays Mama
"We take a field trip once a week with friends and explore our city.  Every week is a new adventure like rock climbing, touring the Mrs. Baird's factory, or learning about money at the Dept of Treasury." Laurie of Tip Junkie
"This year, now that both of my daughters are old enough to carry their own cameras, I'll be encouraging them to take them along with us! Whether it be on our evening walks around the neighborhood, on day trips or our vacation, we have a great time shooting together." Tracey of Tracey Clark
"We're going to make costumes for the cats. It's gonna be awesome. For everyone but the cats." Jenny The Bloggess
"We'll be splashing in the ocean and exploring the beach for crabs, sea anemones and sand dollars!" Allison of No Time for Flash Cards
"We are going to enjoy cooking and eating outdoors in our backyard. I think having Mom outside cooking vs. in the kitchen encourages them to play and enjoy our swing set and backyard instead of getting cranky and nagging about when dinner will be done. We love taking advantage of the nice weather this way and it's a nice change from routine." Katie of Good Life Eats
"Every Thursday we get together with our cousins. We call it Tyler Cousins. As moms, we each take a Thursday to host and plan the activity for that day wether it be a field trip or just a play date in our back yards. It's something we look forward to every summer!" Kami of No Biggie
"This weekend we made lavender wands! Tuck your wand into a drawer. It will magically make your socks smell great!" Ciaran of Momfluential
"We planted our first garden and we are trying to get dirty in it every day!" Amanda of

Impress Your Kids
"We're playing in our water table! My girls can spend hours with little trinkety toys in the water table. So fun!" Marie of Make and Takes!
What are your summer plans?