Growing up, we always had a large bowl full of Mixed Nuts out on the counter, it seemed to be a winter tradition. A few nut crackers were there ready to use and a smaller bowl for the empty shells. I loved fishing out the walnuts from the bowl, as they are my favorite. So when I saw a large package of mixed nuts at the store last week, I had to buy them and try it out with my own kids.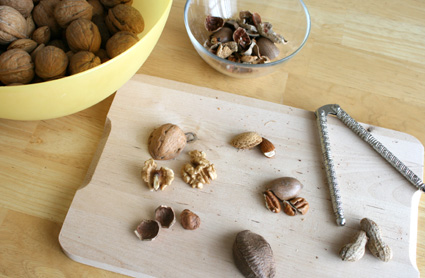 They've loved it! I've had to do most of the cracking, as their little fingers can't quite crack those large nuts, but I've made sure to have some easy cracking peanuts in there too. It's been fun to show them what's inside and we did a little taste test. There's walnuts, almonds, hazelnuts, peanuts, pecans, and one mystery nut. Does anyone know what this is? It doesn't list this one on the package. We're calling it the "mystery nut".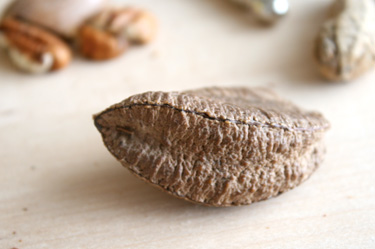 Now any time of the day they can go up on the counter and start cracking their own nuts with the nut cracker and bowl for shells, they know just what to do. A fun yummy little snack!
When you're done with the shells, make these fun nut shell place holders from Zakka Life.
What fun Wintertime memories do you have from growing up?