Now that I've mastered the simple crochet scarf, I'm trying a few new things, broadening my yarn horizons! It's so fun to have a ball of yarn and a hook, whip a few stitches together, and you have something completely new. The possibilities are endless, there's so much great stuff to crochet!
First, for a simple way to store your small leftover yarn scraps, I've just come across this tip from the Felted Button pictured below. Susan uses clothespins to keep the yarn altogether and separate from the rest. It's so clever! I will now have a basket of little mini's like this soon.
Here are just a few things I've been up to with crochet, links for the patterns included:
I've always wanted to learn to crochet a heart. They are just the cutest things on the planet! I think I did a pretty good job on my first try.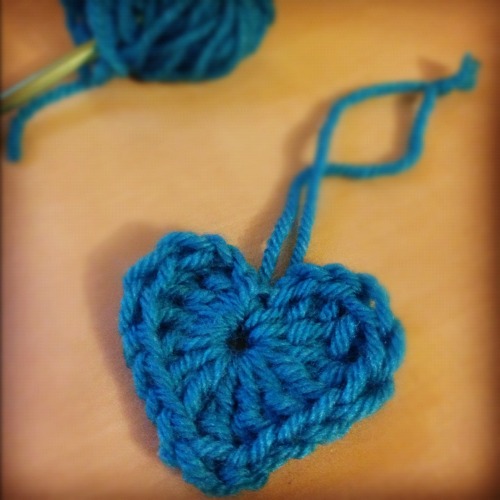 I've got the basic double crochet stitch down for a scarf and I wanted to up the ante a bit with design. I found this fabulous scarf tutorial from Fiber Flux and used some gorgeous orange yarn. Again a really simple pattern to follow, but it has such an intricate look.
I finally learned how to crochet the ever-talked-about, Granny Square! This was a great granny square video on You Tube, in a 5 part video series, showing each step to making a basic granny square. I'm now obsessed with them. The one below was a project for a baby blanket I did on an airplane. They go quick and the edges are always clean and square. Hooray! There will be more to come on this fun little square in future posts!
The project below is one that will probably never end. I've been attempting to crochet an afghan. It was such a fun skein of yarn, I knew I wanted to use a lot of it and make it into a blanket. But little did I know that it will take a LONG time to finish because I keep leaving it to do other projects that are more quick. So far, it only covers my legs, about 1/3 of the way done. And I'm sorry to say that there is no pattern, I'm simply making it up as I go. It's super wonky, but a labor of love!
If you're looking for more places for patterns, there are a ton of great websites out there. Here are just a few, and I've signed up for almost all their weekly newsletters!
Where do you go for crochet patterns? What other websites must I know about?