This sweet and savory popcorn will have your sweetheart begging for more. It's got all the things you love, a perfect combination: popcorn, chocolate, and m&ms!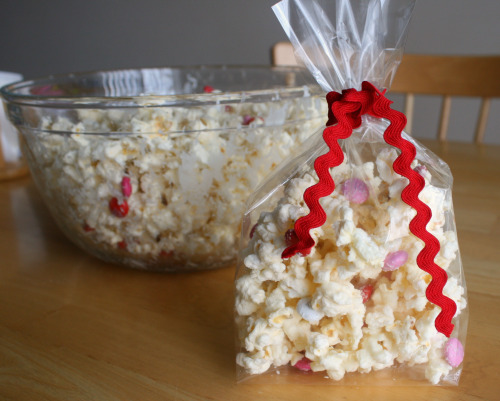 Supplies for White Chocolate Popcorn:
First, pop your popcorn. I used the Homemade Microwave Popcorn recipe, then poured it into a large bowl. I popped two bags to make what you see above.
Pour your melted white chocolate on top and stir. Toss in your m&ms, and mix it all around, getting your m&ms distributed everywhere.
Let this sit at room temperature for a couple of hours to let the chocolate harden, or you can put it in the fridge for 20 minutes or so. Then it's ready to grab and munch. You can put a few handfuls into cute cellophane bags wrapped with ribbon to give as a Valentine's treat to your loved ones.