My daughters had a hard time narrowing it down, but they chose these cinnamon sugar doughnut muffins as their favorite homemade muffin. Pretty high praise from some serious muffin-connoisseurs! These muffins are soft and just sweet enough, with a taste that reminds us of cake doughnuts. Yum!
Whole Wheat Cinnamon Sugar Doughnut Muffins
As I do with almost all of my baking these days, I used whole wheat pastry flour in place of all-purpose flour. They taste just as delicious! Plus, how can you go wrong with something dipped in butter and cinnamon sugar?
Makes 10-12 muffins
Muffin Ingredients:
1 1/2 cups whole wheat pastry flour
2 teaspoons baking powder
1/4 teaspoon salt
1/2 teaspoon ground nutmeg
3/4 cup sugar
1 egg
1/4 cup melted butter or coconut oil
3/4 cup milk
1 teaspoon vanilla extract
Topping Ingredients:
2 Tablespoons butter, melted
1/2 cup sugar combined with 1 1/2 teaspoons cinnamon
Directions:
Preheat oven to 350° and lightly grease a muffin tin.
In a small bowl, combine flour, baking powder, salt, and nutmeg. Whisk together and set aside.
In a large mixing bowl, add sugar (3/4 cup) and egg. Beat with a whisk until well-combined and light in color. Mix in the melted butter, milk, and vanilla extract. Add the dry ingredients and mix until combined. Do not overmix.
Fill the muffin cups about 3/4 full with batter, making around 10 muffins. I usually skimp a bit in each muffin cup to stretch it to a dozen. You won't get tall muffin tops that way, but we don't mind!
Quick tip – we use a heaping quarter-cup measure to fill our muffin cups and it is just right. This helps my kiddos divide the batter evenly on the first try!
Bake at 350° for 15-18 minutes, till a tester poked in the center of a muffin comes out clean.
When done, let cool slightly and remove from pan. Brush the muffin tops with melted butter and roll in the cinnamon sugar mix.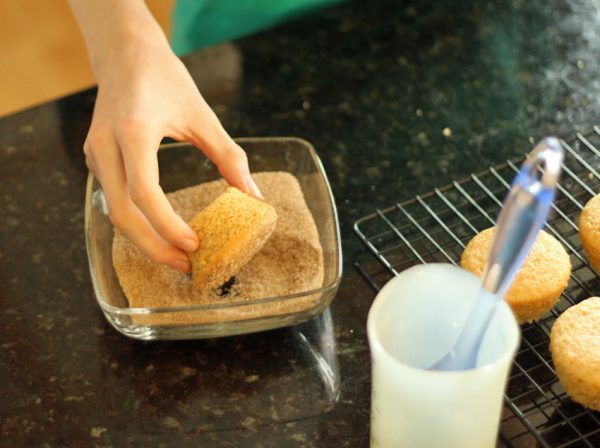 We especially love these when they are still warm! If you want them to be extra-fancy and decadent, you can brush the entire muffin with butter, and then roll in the cinnamon sugar mixture. Messy, but delicious!
If you are lucky enough to have some older kids or teens in the house who like to bake, have them whip up a batch for the family this weekend. Enjoy!