Now that spring is well underway, it's time to focus on another all-important and quickly approaching holiday…Mother's Day! It may seem like it's a long way off, but in reality, it's only 2 1/2 weeks away! Now that that has been cleared up, it's clearly time to start planning celebrations for our mamas. Mother's Day brunch is a classic tradition, and is one that my mom loves, so what better way to celebrate Mother's Day this year than with a brand new brunch recipe?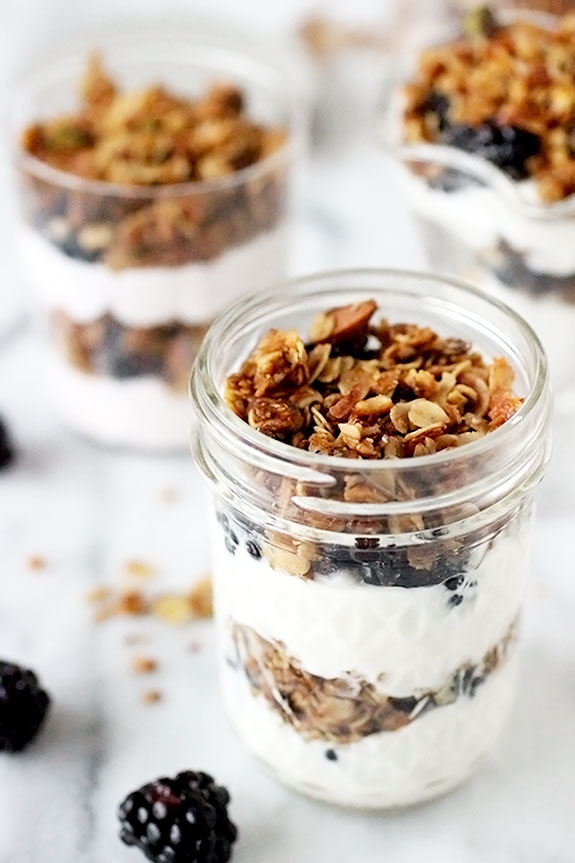 My mom has always loved brunch, and the brunch dish she's famous for is a croissant bread pudding. It's rich and buttery and oh so decadent. Lately though, my mom has been favoring lighter meals and simpler flavors, so I wanted to come up with a brunch menu item that would perfectly suit her changing tastes.  She happens to be on a Greek yogurt kick, so I figured that a breakfast parfait with a really delicious homemade granola would be a perfect brunch treat to make her. I found this granola recipe over on The Kitchn a while back, and once I settled on making homemade granola I knew that was the recipe I had to use. It's claimed to be the best granola ever, and I'd have to agree! It's full of oats and nuts and has an incredibly unique flavor. It's made with olive oil, which sounds surprising, but the olive oil lends a really nice flavor to the nuts. The granola is a perfect blend between sweet and salty, and it's the kind of granola you could innocently pick at and then suddenly realize you've eaten half of the entire batch. It's that good.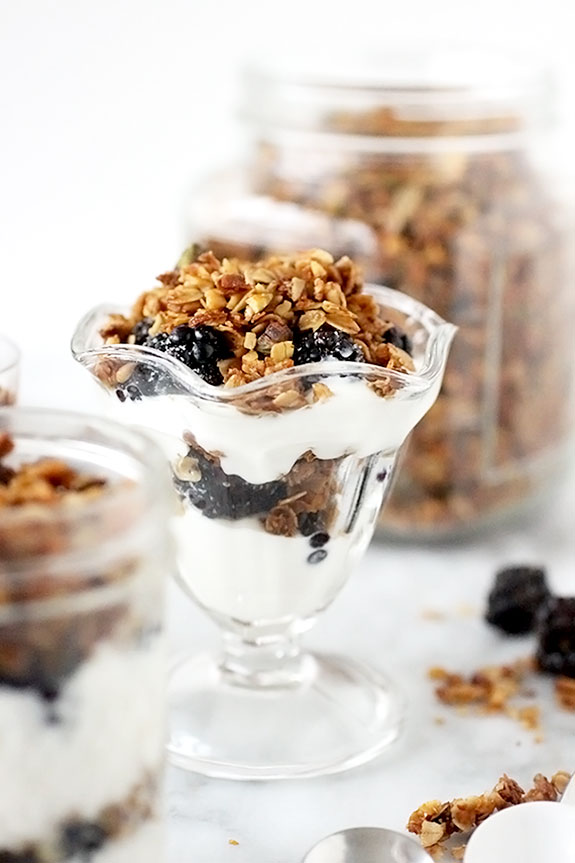 The original granola recipe at The Kitchn is a blueprint of sorts for granola making. Since it's only a general formula, you can easily change it up as you like. Below, I listed the flavors I used, but by all means feel free to use your favorite mix-ins! My mom loves walnuts and pistachios, so those were obvious choices when picking nuts. I chose to keep out the dried fruit because I wanted to use fresh fruit in the parfaits, but I think that dried apricots and raisins would have been lovely in this batch. Mixing up granola is the easiest thing in the world, and in less than an hour, you'll have a sheet pan full of fragrant, delicious granola cooling off in your kitchen. To make the parfaits, I simply layered my homemade granola with some Greek yogurt and fresh blackberries to create a beautiful and delicious brunch treat. Making a batch of this granola is a great idea for a Mother's Day brunch. If you're hosting brunch, you could serve it in a big bowl alongside yogurt and fresh fruit and have a parfait bar for guests, or if you're just planning on spending a quiet Mother's Day at home with mom, just make a parfait for the two of you and keep the rest in an airtight jar for breakfasts later in the week. My mom loved this granola, and I'm sure I'll make it again and again for her. Enjoy!
Recipe for Parfaits and Homemade Granola
Ingredients
For the Granola
3 cups old fashioned rolled oats
1 cup chopped walnuts
1 cup chopped pistachios
2/3 cup shredded coconut
1 teaspoon kosher salt
1/4 teaspoon cinnamon
1/2 teaspoon cardamom
1/2 cup olive oil
1/2 cup + 1 tablespoon honey
3/4 teaspoon vanilla extract
For the Parfaits
your favorite Greek yogurt (I used vanilla and strawberry)
your favorite fresh fruit (I used blackberries)
Directions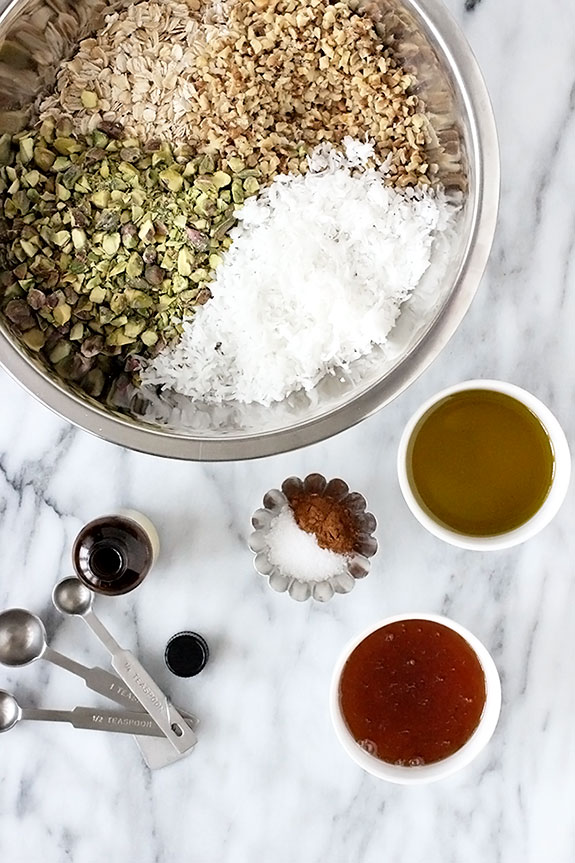 Preheat the oven to 350 degrees F and position a rack in the middle of the oven. Lightly grease a half sheet pan with nonstick spray.
In a large bowl, stir together the oats, walnuts, pistachios, and shredded coconut. Toss in the salt, cinnamon, and cardamom, and stir to combine. Stir in the olive oil, honey, and vanilla extract, stirring until evenly coated.
Pour our the bowl of granola onto the prepared baking sheet and spread into an even layer. Bake the granola for 40-45 minutes, stirring about every 15 minutes to ensure that the granola is baking evenly. If you like your granola full of chunky clumps, don't stir the granola as it's baking; the choice is up to you! If you find that the granola is starting to brown a little too quickly, simply place a sheet of aluminum foil on top to prevent the granola from getting any additional color as it continues to bake.
Once baked, remove the granola from the oven and allow it to cool completely.  This will be difficult, because the granola will smell amazing.  Once completely cool, you can begin to make your parfaits!  Simply layer your favorite Greek yogurt, fresh fruit, and this amazing homemade granola in a clear glasses.  Enjoy!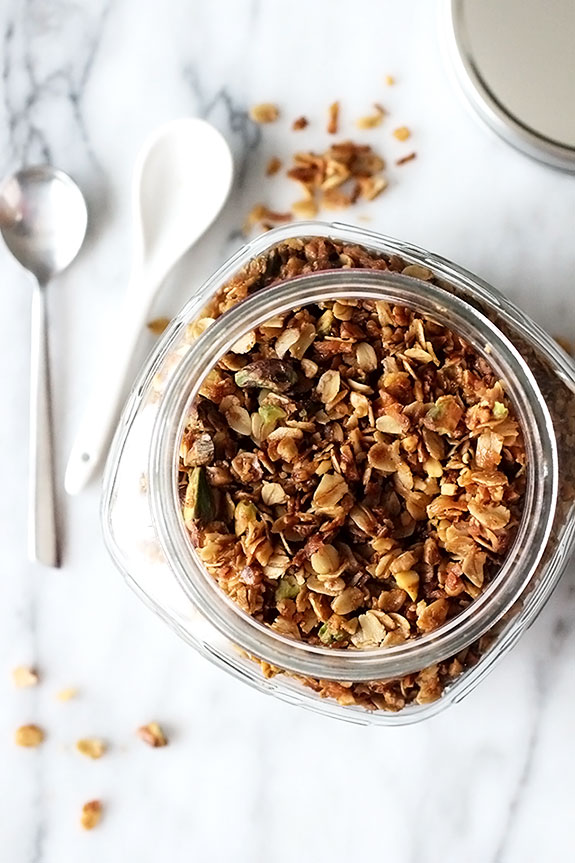 Makes about 6 cups granola