About
Make and Takes is a popular parenting site sharing kids crafts, home projects, easy recipes, parenting tips, and more. Everything posted is something to "make and take". Whether it's a craft for kids, an easy way to spruce up your home decor, baking a delicious dessert, holiday projects, or a fun family-friendly tip, you'll be able to make or take something!

Our Mission: to provide ideas and crafty tidbits for home, family, and fun. We hope our simple ideas and projects will help bring fun and learning into your home. Take a look around and I'm sure you'll find something to Make and Take today!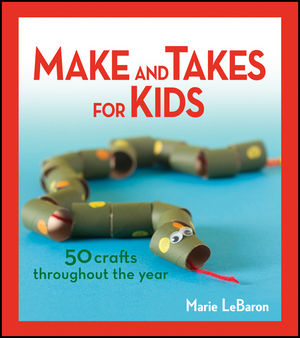 Make and Takes for Kids: 50 crafts throughout the year is the first book published by Marie LeBaron for Make and Takes. You can enjoy 50 crafts for kids to celebrate holidays all throughout the year. You'll have something to make and take for each month involving your kids, crafts, food, and fun!
Our Contributors:
—————————————————————————————————————————-
Marie LeBaron is the founder and managing editor of Make and Takes.
Marie is a mother of 3 living in the Pacific Northwest. Always having a love of crafts, she enjoys getting messy with glue and glitter. There's always some sort of project going on, her kitchen table is often cluttered with crafts. When she's not crafting and creating with her kids, she loves to crochet, read, and blog!
Marie graduated with an Early Childhood and Elementary teaching degree and taught kindergarten for 4 years. She now shares many of her tips and tricks she's learned over the years on her blog. She's listed as one of Nielsen's Power Mom 50, Babble 50 for Best Design Blog, Babble 50 for Best Mom Craft Blogs, is a hostess of the BlogHer pre-party: SocialLuxe Lounge, and organized the women's blogging relay team, Eat Blog Run. Marie is the editor of Family Crafts at About.com. She has also a contributed content for Alaska Airlines, Seattle's Child Magazine, Martha Stewart, Craftzine, Baby Center, PBS Parents, Babble, and Creative Child Magazine.
—————————————————————————————————————————-

Amy is a contributing writer for Kids Crafts and Recipes.
Amy is happiest surrounded by her husband, two daughters, stacks of books, and craft supplies. With a background in psychology, early childhood education, and elementary teaching, Amy is a supporter of playing dress-up, digging in the dirt, and squeezing out puddles of glue. If she could share one message with parents and educators, it would be, "More play, please!" At her blog, Let's Explore, Amy shares her family's experiences creating, imagining, and playing together. Read other posts by Amy.
——————————————————————————————————————-
Stacey is a contributing writer for Kids Crafts
Stacey is a proud Air Force wife, mother to a preschooler and a self-proclaimed craft-a-holic. Through her blog Glued to My Crafts, she hopes to inspire others to get crafty with her simple DIY tutorials and kid friendly activities. Most of all her craft tutorials require no special skills or tools – just simple fun that anyone can accomplish! Read other posts by Stacey.
——————————————————————————————————————-

Shruti is a contributing writer for Kids Crafts.
Shruti Bhat wears many hats throughout her day – Mum, Wife, Friend, Program manager at work and the chief dreamer at ArtsyCraftsyMom.com where she shares creative Mum-Tested ideas for children and their parents. This chai & Art-craft-loving mother is happy to be raising her daughter in the culturally rich, Garden City that is Bangalore, India. Read other posts by Shruti.
——————————————————————————————————————-

Juliann is a contributing writer for Kids Crafts.
Juliann is a designer, teacher, and freelance illustrator. She has two little girls, a home, a garden, a husband and a Pinterest obsession that all require attention. She loves to make things, bake things, read things and grow things. You can see more of her work and life at Faboolous! Read other posts by Juliann.
——————————————————————————————————————-

Oana is a contributing writer for Recipes.
Oana is a Philadelphia based food blogger and most days you can find her in the kitchen cooking, shooting and styling seasonal recipes for her cooking blog, Adore Foods. On rare occasions when she is not in the kitchen she loves spending time with her daughter and her husband or going fishing. Read other posts by Oana.
——————————————————————————————————————-

Alexis is a contributing writer for Home Crafts.
Alexis is a lifelong crafter and blogger at Persia Lou. As a girl, she spent summers with her grandmother crocheting baby doll afghans, making coasters out of plastic canvas, and canning apricot jam. Today, Alexis still spends her days working with yarn, paper, and paint; she loves mixing traditional crafting techniques with a more modern aesthetic.
——————————————————————————————————————-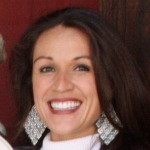 Sabrena is a contributing writer for Family Time.
Sabrena is a mom, yoga instructor and triathlete with a passion for food, politics, natural parenting and the environment. She has been featured online, in print, radio and TV for her work in travel, recreation and yoga. She writes her blog SuiteSpots for "primarily therapeutic reasons," and resides in Salt Lake City with her husband and two younglings — Holden and Zoë. Read other posts by Sabrena.
——————————————————————————————————————-