About
Make and Takes is a popular parenting site sharing kids crafts, home projects, easy recipes, parenting tips, and more. Everything posted is something to "make and take". Whether it's a holiday craft for kids, an easy way to spruce up your home decor, baking a delicious dessert, or a fun family-friendly tip, you'll be able to make or take something!
Our Mission: to provide ideas and crafty tidbits for home, family, and fun. We hope our simple ideas and projects will help bring fun and learning into your home. Take a look around and I'm sure you'll find something to Make and Take today!
Marie LeBaron is the founder and managing editor of Make and Takes.
She's a mother of 3 living in the Pacific Northwest. Always having a love of crafts, she enjoys getting messy with glue and glitter. There's always some sort of project going on, her kitchen table is often cluttered with crafts. When she's not crafting and creating with her kids, she loves to crochet, read, and blog!
Marie's Book… Make and Takes for Kids: 50 crafts throughout the year. Marie's craft book published with Wiley 2011! Enjoy 50 crafts for kids to celebrate the months and seasons of the year.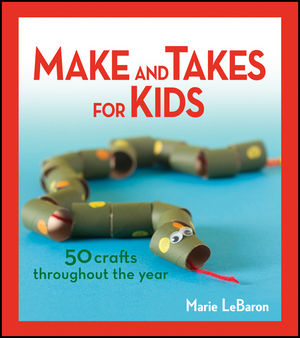 Marie graduated with an Early Childhood and Elementary teaching degree and taught kindergarten for 4 years. She now shares many of her tips and tricks she's learned over the years on her blog. She's listed as one of Nielsen's Power Mom 50, Babble 50 for Best Design Blog, Babble 50 for Best Mom Craft Blogs, is a hostess of the BlogHer pre-party: SocialLuxe Lounge, and organized the women's blogging relay team, Eat Blog Run. Marie is the editor of Family Crafts at About.com. She has also a contributed content for Alaska Airlines, Martha Stewart, Craftzine, Baby Center, PBS Parents, Babble, Creative Child Magazine, and Snackpicks.
Our Contributors:
—————————————————————————————————————————————————

Amy Anderson is a contributing writer for Kids Crafts and Recipes.
Amy is happiest surrounded by her husband, two daughters, stacks of books, and craft supplies. With a background in psychology, early childhood education, and elementary teaching, Amy is a supporter of playing dress-up, digging in the dirt, and squeezing out puddles of glue. If she could share one message with parents and educators, it would be, "More play, please!" At her blog, Let's Explore, Amy shares her family's experiences creating, imagining, and playing together. Read other posts by Amy.
—————————————————————————————————————————————————
Francine Clouden is a contributing writer for Kids Crafts and Home Projects.

Francine is an avid scrapbooker and photographer who shares ways to create a simply delightful life on her blog Callaloo Soup. A lover of journals & printables and a collector of vintage decor, you can see what she's up to in her daily life in France on Instagram. She loves anything crafty and plans to master knitting this year. Follow her on Twitter too! Read other posts by Francine.
—————————————————————————————————————————————————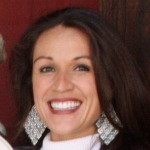 Sabrena Suite-Mangum is a contributing writer for Family Time.
Sabrena is a mom, yoga instructor and triathlete with a passion for food, politics, natural parenting and the environment. She has been featured online, in print, radio and TV for her work in travel, recreation and yoga.   She writes her blog SuiteSpots for "primarily therapeutic reasons," and resides in Salt Lake City with her husband and two younglings — Holden and Zoë. Read other posts by Sabrena.
—————————————————————————————————————————————————