Many of you, including myself, are in charge of your child's classroom party. I'm the "game mom" and have been trying to come up with something to keep their attention. I've compiled a few fun and easy games and activities to play that will hopefully keep the kids occupied and having fun.
Story Book Corner – always a good idea to have one of the group helpers read stories. The kids can be eating a snack during the story or just sit and enjoy.
Beaded Ornaments – these are easy for the kids to make and fun for them to take home and add to their tree.
Candy Cane Reindeer – a classic craft. Use brown pipe cleaners and twist them onto a candy cane. Then glue on googly eyes and a pom pom nose. But I do suggest using fruity candy canes, my kids don't like the spicy cinnamon or mint ones. Or make Dad a cute Reindeer Clip for the office!
Fruit Loop Garland – this can be the craft or the treat. Have them make it for their trees at home, or add it all up onto a tree in the classroom.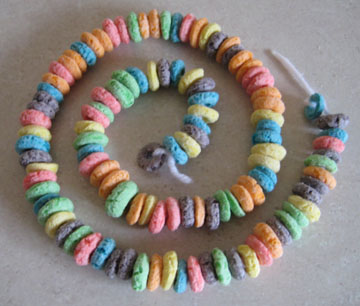 Snowy Obstacle Course – the kids take a cup, spoon, or toothpick of snow (real snow or marshmallows or cotton balls) through an obstacle course around the room and not drop what they're holding. They must make it to the other side and add their item into a bucket or Santa hat or miniature sleight or snow man boot. This game can have teams or just everyone takes a turn.
What ideas do you have planned for a Classroom Holiday Party?