I'm taking the next few weeks to spotlight my amazing contributors. Next up on the list is Jamielyn of I Heart Nap Time who contributes once a month to our Home Projects page.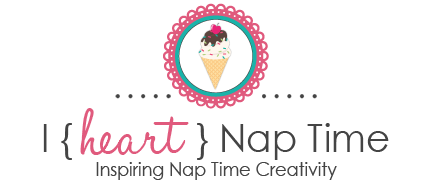 Jamielyn has such a great designer's eye. She's always whipping up some new and fabulous project. Really, I want to live at her house, it's got to be decorated so darling!! Or maybe she just keeps switching it all out, anyone who loves DIY is never satisfied! And these are the type of projects you can do in one or two hours, just enough time for your little one to be taking a nap. Now if only my 3 year old would still take naps… ;)
I Heart Nap Time is a creative site sharing DIY home projects on a budget, crafts, sewing tutorials, easy recipes, tips and techniques. I Heart Nap Time is updated  five times a week bringing readers new content to be inspired by. A weekly link party is hosted on Saturdays for readers to link up their recent projects and ideas. Our Mission is to help women find the time to create by sharing tutorials, ideas and support.
Here are just few favorite posts from Jamielyn at I Heart Nap Time:
Head over to Jamielyn's blog to see all the fabulously festive crafts and projects she's got going on!