I was so happy to be a part of the Mom It Forward with Make and Takes service project held in Utah last week. Families came to craft with their kids, all to help out kids in need!
We decorated a Christmas Tree at the Christmas Box House, a home for children to stay in between foster care. We decorated the "April" tree for the house, the first thing each child sees as they enter their new home. I was proud to be a part of giving back, making someone else's stay a little brighter.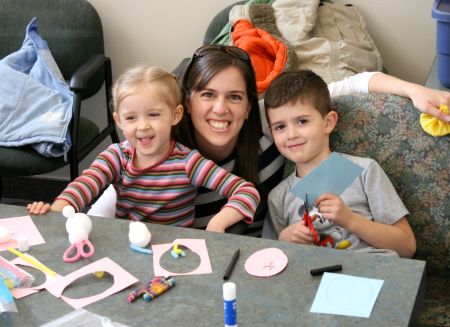 I loved seeing what crafty things everyone came up with. There were lots of bunnies, chicks, and spring flowers created for the tree. What a fun opportunity to help in this service project, crafting for a cause.
Speaking of Mom it Forward, I love their Mission and applaud them for their efforts. Going on right now, they are helping to raise money for women in Kenya. They'd love for you to learn more and help in this fundraising effort. I've even added a 'chip in' button on my side bar where you can donate with a click of a button. Watch for a nationwide fundraising event happening on April 18th. See Mom It Forward for details on how to help in your area.