Recently I received this fun paper cutting machine from Cricut to try out and craft with. They're in partnership with Today's Mama, spreading the word about their fun contest "Cricut Golden Ticket" starting July 1st! Cricut is an electronic paper cutting machine. With their computerized machine and cartridges, there are fun fonts, shapes, and images with lots of intricate details. It's THE paper cutter to end all paper cutters. It also cuts vinyl, chip board, magnet sheets, the possibilities are endless.
For this fun promotion, Cricut wants you to find one of 20 Cricut Golden Tickets located in one of their new cartridges purchased during the next few weeks. They're sending 20 lucky winners on a Cricut Caribbean Cruise for 7 relaxing days! And Today's Mama is getting in the action, offering free giveaways for Cricut cartridges. So maybe if you win a free cartridge, it will have a winning cruise ticket too!!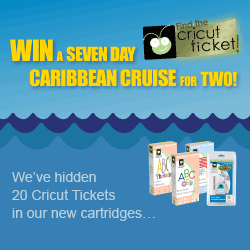 Well today I wanted to share a fun holiday craft I came up with while using the Cricut machine. I crafted with one of their 4 newest cartridges called "Stand and Salute". Since the 4th of July is coming up, I thought I'd craft something patriotic for an upcoming 4th of July party. I made some fun paper cupcake flags.
I programed the image with red paper to cut this flag shape. It cuts a lot at one time, filling the page with flags, as I'll need a lot of cupcakes to top! Then I cut a blue rectangle shape to go behind using a with a paper slicer.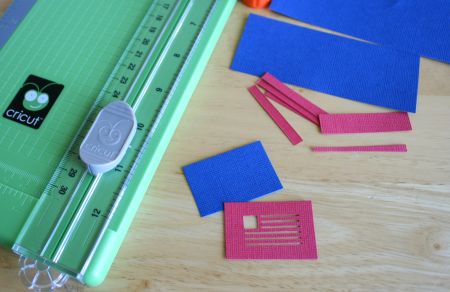 Then I added a toothpick in between and glued it all together. Very easy. And the Cricut makes these fun cupcake flags with so much detail, almost impossible to create the same look on your own.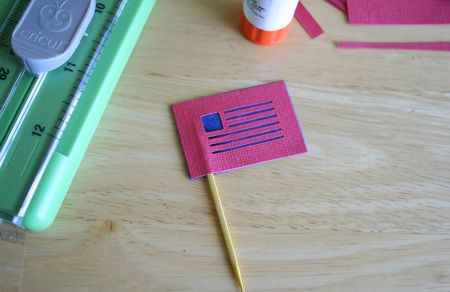 I have more big plans for my Cricut, I'm having too much fun. I'll be crafting some fun vinyl wall lettering and shapes for my girls room. I love the images from the "Simply Sweet" cartridge, perfect for my little princesses!