Thanks to my sweet sister-in-law, Cathy, I have been making these easy Enchiladas with this can of sauce for a few years now. The recipe is right on the back. With only 4 ingredients, it feeds my family of 4 for 2 separate meals.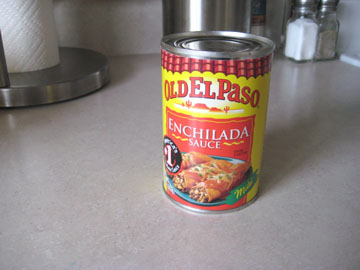 You only need tortillas, enchilada sauce, cooked and shredded chicken, and cheese. I boil my chicken as I find it shreds really easily that way. Then add the sauce and 3/4 of the cheese to the bowl. Then the assembly line begins.
I can fit 6 enchiladas in my 8×8 pan, that is the amount of food my family of 4 can eat. Then I load up 6 more in a foil freezer pan for later. I am able to get 2 meals in 1, gotta love that. If you have more mouths to feed, you can use 2-3 cans of sauce and double the meat and cheese. This is a great make-a-head meal for any size family.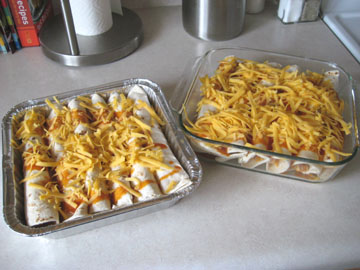 Then place 2 layers of foil over the freezer pan, label it with directions, and pop it in the freezer for a later meal. I suggest you pick up a can of Old El Paso Enchilada sauce next time you are at the grocery store.