This giveaway is now closed. I want to thank all of you for the wonderful birthday wishes and kind comments about my blog. It really means a lot. Thanks to everyone for entering. We now have a winner for the Nintendo DSi – Congrats to #293 Annie. Have fun with your new toy!!
Today is my 33rd birthday – yipee – and I'm celebrating this weekend at The Creative Connection event in Minnesota! How fun that I get to spend my birthday with 500 fabulous and crafty women?! (More about the conference and it's creative awesomeness soon). Here's me in a fancy birthday hat, shown courtesy of Lemoncholy's Studio & Art is You gals!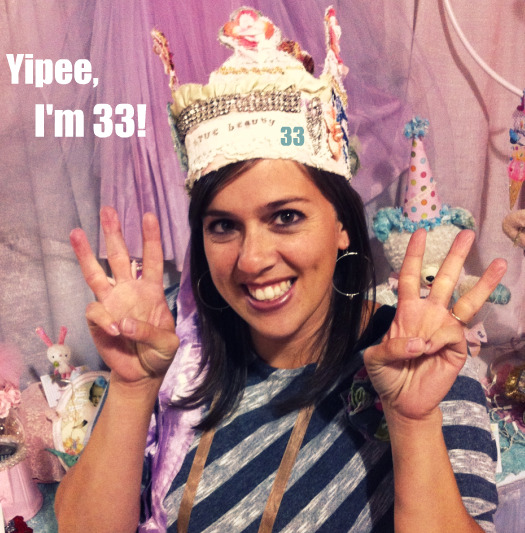 To help celebrate my birthday, Nintendo has gifted me with one of their DSi's (yes, this mama is a gamer, Tetris all the way) and I get to give one of these uber popular DSi's + 3 games to one of you! Yay for birthdays!!
Nothing like getting your Holiday shopping done early!
______________________________________________________________
Giveaway Entries: For your chance to win one Nintendo DSi + 3 DSi games, leave one comment on this post by Thursday September 23rd @ midnight – make sure to wish me a big fat Happy Birthday ;). I'll announce the winner chosen from random on Friday morning September 24th. Good Luck!
**And head on over to Today's Mama for a fun family DSi giveway too!!