Yay, it's Make and Take's birthday! I've been writing this blog for 2 years now and have loved every minute of it. I must especially thank all of you for helping keep this going. Thank you for reading, commenting, and linking to Make and Takes!!
To say thanks for being the best people out there, I'm hosting a big fabulous giveaway today. I'm calling it, "Locally Grown in Utah Giveaway". As I started to list some of my favorite places to showcase on this giveaway, I realized a lot of them were from Utah. So I'm featuring a few of my favorite shops in Utah, all giving away some amazing things. (One of the best views in Utah, Mount Olympus. I grew up with this big beautiful mountain right my back yard!)
Locally Grown in Utah Giveaway: Seven Shops = Seven Winners!
Sweet Tooth Fairy – $25 gift certificate. You're going to want to use all $25 on their infamous Cake Bites. They were even featured on Rachael Ray. I gave some to my husband and now he won't eat anything else with chocolate. They're to DIE for.
Sarah Jane Studios – Calendar and Love Cards. Sarah Jane is one of those classic lovely designers. Her designs are simple yet elegant. Today she's giving away a calendar, and even though we're almost 2 months out, I suggest framing each one of the calendar pictures once the month is through! And here's the set of Love note cards pictured below.
Cheeky and Swank – Baby Bib and Burp Cloth Set. Their motto: "for Cheeky kids & Swank parents". So if you fit that category, this shop is for you. They sell apparel, baby items, and home decor. Today they're giving away a Bib and Burp Cloth set. And how cool that their bibs fasten together with a magnet!
Kelly McCaleb – 2 Patterns: Crochet Baby Booties & Cross Quilt. Kelly's blog was one of the first I ever read and made me fall in love with Handmade even more. She's got this raw quality that I am just gaga about. Kelly inspires me to be more simple and natural. Today, Kelly's giving away 2 fantastic patterns, one for crocheting and one for a quilt, too cute.
Fall Down Tree – Your Choice of any print. Fall Down Tree caught my eye at first sight. Their prints are amazing, perfect for your child's wall collection. Today they're giving away any print of your choice! Check out their shop and see what's your favorite!
The Sassy Shoppe – Sweet Sassy Stuff. This Sassy Mom wants you to get your 'Sassy On'! She's makes and sells super sassy things for you to look great. Today she's giving away a Stroller Bag, Tissue Cozy, Key Fob Wristlet, and a Mini Wallet. All in fashionable fabric to make you look your Sassiest!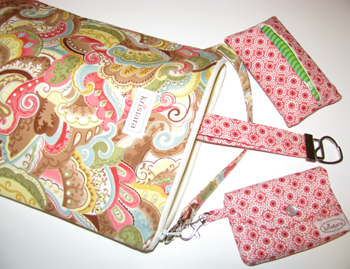 Four Girlies Shop – 3 Charmed Necklaces. This cute little shop is full of 4 Girlies who make these adorable necklaces. Each comes with a little charm, adding more flare to your ware! Today, they're giving away 3 Charmed Necklaces, 2 for love and 1 for luck!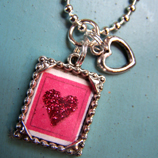 ---
This Giveaway is now Closed
Giveaway Entries: For your chance to win one of the seven items from this Locally Grown Giveaway, leave a comment on this post by Thursday, February 19th @ midnight. I'll announce the 7 winners chosen from random on Friday morning February 20th.
Want a few more chances to win? Do any of the following below and leave a comment for each one you do:
That's four additional ways to win! Just remember to post an additional comment for each one.