This giveaway is now closed. Thanks to all who made a guess! There were two people who guessed right on: 273!! So after choosing between the two at random, our winner is #70 Andrea. I'll email you for details.
I'm in the giving, loving, sharing spirit! Valentine's is such a fun holiday and our little family is following the 14 Acts of Love countdown. We picked one this week that said, "share a toy with a friend". Well, I'm going to share a "book" with a friend… one of YOU!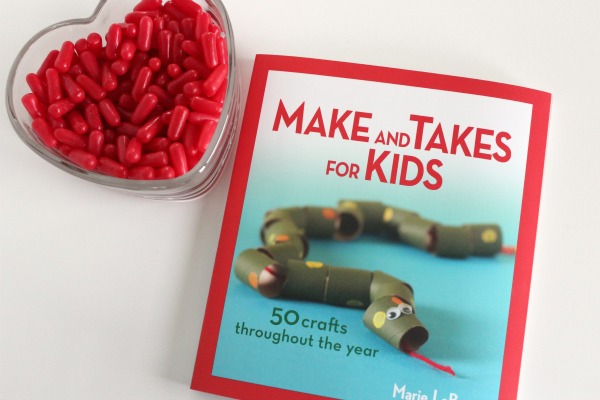 But I like to make it a bit of a challenge! You have to guess how many Hot Tamales are in this heart dish. The person who is the closest, over or under, WINS a copy of Make and Takes for Kids. Hooray!
A little back story…
Hot Tamales are my favorite candy, f-a-v-o-r-i-t-e! And I've just realized this. Really, all time favorite. Like eat an entire box by myself at the movie theater kinda love. Am I alone?  The best part is no one else in my family likes them, they are too hot, so they are all m-i-n-e! ;)
So, now enter heart dish filled with red candies for a Valentine contest. Yippee! I'm showing you two angles to get a better view. Count them up, include the 6 on the table, then enter your number choice in the comments. The closest person to the exact number in this bowl, yes I counted each one, will win a copy of my book.
You only have until Friday Feb 10th at midnight, so get your answers in the comments. And just one comment per person, (which means if you have kids and they want a shot at it, let them guess and leave a separate comment for them.)
Good luck!!