When I was teaching school, I had great classroom parents in charge of organizing our class's holiday parties. Now as a parent, I'm on the other end trying to get ideas for the upcoming class party. Here's some ideas I've gathered that can be done for your child's Halloween Class Party. Note: most ideas can be adjusted for any grade.
Setting up stations is a must for any classroom party. If you have stations, you can come up with 4-5 different activities and rotate the kids through to each. This way, each parent and activity only have 5-6 kids at a time. This helps to ease the crazy excitement the kids are feeling withHalloween and candy. Listed below are several ideas for your Halloween stations.
Games and Activities: 
Get Mummified: Using toilet paper, wrap the kids up like a mummy. You could have 2 toilet paper rolls and have a contest to see who can wrap from head to toe the fastest.
Squirt the Pumpkin's Candle Out: Set up 2 pumpkins (carved, real or plastic) on a table with a plastic backdrop, we used black garbage bags. Place a tea-light candle into each pumpkin and light it using a long lighter, adult use only. Now have 2 kids race to squirt the candle out with their squirt bottles. A tip for this game is to have 10 or so candles to rotate through, as they get wet and are harder to light.
Kid-Sized Spider Web: This giant web would be a great activity for a classroom setting. Just clear out some space and use the classroom chairs.
Pin the Face on the Pumpkin: I love this idea from Little Birdie Secrets. They also have more great party ideas on this post. You could also cut out parts of a face from a magazine and have the kids decorate their pumpkin with those.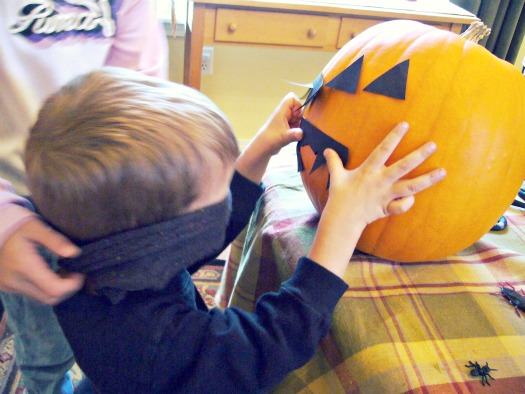 Crafts to Create:
Spider Lacing Cards: Cut out a large paper circle or you could use a paper plate. Have the children punch holes around the edge of the paper and thread yarn through each of the holes for a spider's web. Give each of the kids a plastic spider ring to add to the web!
Halloween Printables: Here are a few fun Halloween coloring pages or paper finger puppets to print out.
Pipe Cleaner Yarn Spiders: Gather pipe cleaners and yarn, and 2 googly eyes to wrap, bend, and glue together this cute little spider. Once these spiders are made, you could use them to hide around the classroom for a fun hide & seek game.
Treats to Make:
Candy Haunted Houses: I've had a parent do candy houses with my class, but each graham cracker house was hot glued together prior to the kids getting them. Then all the kids did was use the frosting to decorate it with candy. They loved it, but was a little messier. This could be done instead of decorating a cookie or cupcake.
Boo-tastic Rice Crispy Treats: Mix up a batch of Rice Crispy treats and add in a little food coloring to the mix. Hand each child a ball size of treats and along with some candies for decorating, have the kids make pumpkins or goblins.
Witch Broom Candies: Give the children some mini Reese's Peanut Butter candies along with some pretzels and they can make a few fun witch brooms with them.
Stories to Read:
I liked having a station set up for a little quiet calm down time. Usually 3-4 books are read for the group of kids in the 8-10 minutes of this station.
Here's a fun book and activity for Piggie Pie and Zoom Broom.
I've also read Jerry Seinfeld's Halloween book to older kids and they love it.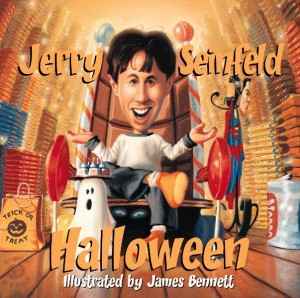 Other great sites listing fun activities for Classroom Parties: