I have gone through every mop there is. I need some help in choosing a new one. I like to "deep clean" mop every so often, but then I like to "clean up" mop a couple times a week. I have tile and the grout kills me, so at times I have to put my back into it. I really do not like to mop, but my floor begs for it.
Current Mop, very good for the deep clean mopping job, but back breaking:
Current Quick Mop, but I go through 4-5 sheets in one clean up:
What I am thinking of getting, for the quick clean up, so it has constant soap flow: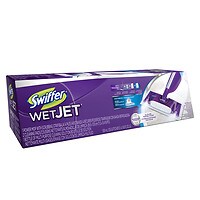 What I am considering instead of all of the above:
What do you use to scrub the dirt and grime off your kitchen floor? Help!