My son has been calling everything his "Pure Beauty". I don't know why or where he got it from, but it makes me laugh every time he says it. Like this sandwich is his "pure beauty" or this shirt is his "pure beauty" followed by giggles.
Well, this is my PURE BEAUTY! Cadbury Creme Eggs!! Cadbury is the King of candy if you ask me. Right when I see those pure beauties show up sometime in late January, I buy a handful. Even as I write this, I am currently downing a whole bag of Cadbury Mini Eggs. They call to me. Even my unborn baby is addicted, I know because she is asking for them all the time.
I think Easter candy is my favorite kind of candy. I just went through an entire bag of Reese's Mini Egg Peanut Butter Cups last week. I was buying them early to get ready for the Easter baskets, but who was I kidding, they were gone by the next day!! And who can resist the Mini Malted Robin Eggs that are fun for painting your lips?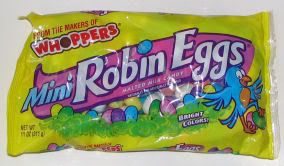 What is your Pure Beauty? And how does Easter candy compare on your Holiday treat list?