Last week I received an invitation from Salt Lake City's Grand America to come spend a night in their 5 star hotel and enjoy a spa day on them. I was also joined by a few fun Utah blogger friends, Jyl, Carina, Janet, and Allison. What more could a girl ask for? Facials, food, friends, and fun!
Our room was amazing! It came complete with kitchen, and washer and dryer! Need chocolates on your pillow, they've got 'em. Want a jetted tub, it's here! And throughout the hotel for December, the Grand America is featuring a few Holiday events like: Teddy Bear Town, Angel Tree, Tea Time with the girls, and their first annual Grand Gingerbread Village.
For dinner we ate at the Garden Cafe and our service was fabulous. Buffet, campfire shrimp, flat iron steak, duck fat fries, corn casserole, and my favorite were the doughnuts for dessert, could have eaten the whole basket!
Good thing we did Yoga in the morning with Carrie to help me feel a little better about the doughnut basket later that night!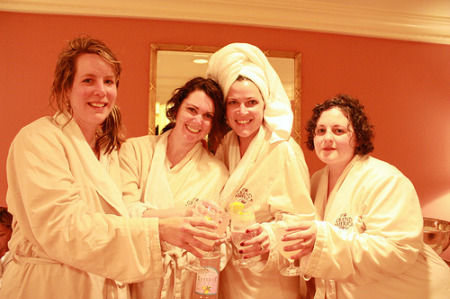 And just for you fabulous readers, here's a discount code for your next stay at the Grand America. Follow this link for and exclusive room rate of $100 off! Or mention "Social Media" at the Grand Spa and get 20% off your spa treatment. Hopefully this will help you enjoy a fabulous spa getaway without breaking the bank. Cheers!
(Images courtesy of Petit Elefant)