Storytime today is brought to us by Guest Make and Taker, Alison from This Wasn't the Plan. As she's a mother of boys, Alison knows life can get pretty silly, sort of like Dr. Seuss's stories. So she's sharing a classic book from Dr. Seuss with us today, along with a great activity.
My four year old son is all about nonsense words these days, so There's a Wocket in My Pocket by Dr. Seuss always gets a giggle out of him. In this book, strange creatures with even stranger names live all over a little boy's house. Some are friendly and fun and others are not.
After reading it the other day we drew some creatures of our own, gave them names, and figured out where they would live. I cut out pictures of furniture and other objects from an old catalog, but you could simply draw the furniture also or even take some pictures of actual furniture you have in your house.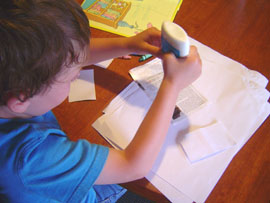 Like in the book, some of our creatures rhymed with where they lived (we had Gishes and Mishes on the dishes) but others didn't (my son decided he wanted to draw a marshmallow). But that's okay, we weren't out for perfection.
Thanks so much for this opportunity. We both had a lot of fun and it really got my creative juices flowing.
What a great story to keep things silly! Thanks, Alison, for a perfect Friday story. We'll be coming up with creatures this weekend and giving them our own silly names. It seems those creatures are found in every part of the house!