I have posted before about my Recipe Club, and I am excited to share what happened this month. My friends and I recently had recipe club at my house. The theme I chose for this month was Pumpkin. They were to make and bring a food item that had Pumpkin as the main ingredient and bring copies of the recipe to share.

Everyone brought delicious recipes. I made Creamy Pumpkin Sauce with Pasta as the main course. There was also, Pumpkin Soup, Pumpkin Monster Morsels, Pumpkin Dip, Pumpkin Cake, and Pumpkin Butterscotch Cookies. I couldn't have been more happy with the results. Ladies were going back for second.
Creamy Pumpkin Pasta:

1 pkg. (16 oz.) penne pasta, uncooked
1 pkg. (8 oz.) Cream Cheese, cubed
1/2 cup Parmesan Cheese
1/2 cup (1 stick) butter or margarine
1/2 cup milk
1 cup canned pumpkin
1/2 tsp. ground red pepper
ground nutmeg/salt/pepper to taste
** I added roasted pumpkin chunks to the pasta

COOK pasta as directed on package.

MEANWHILE, place cream cheese, Parmesan cheese, butter and milk in large saucepan; cook on low heat until cream cheese is melted, stirring frequently. Add pumpkin and spices; cook until heated through, stirring occasionally. ADD pasta; toss lightly. Serve topped with additional Parmesan cheese, if desired.
Everyone brought delicious recipes and food. We had a great time chatting and eating, a great girl's night out!! Here is what they all brought.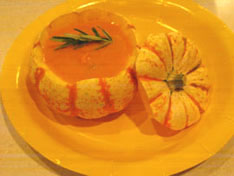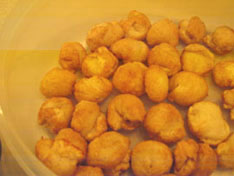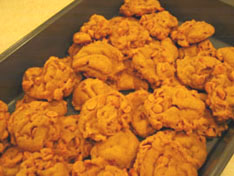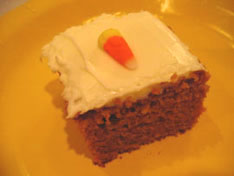 For a fun game, I cut open a small pumpkin and counted all the seeds. The closest guess of how many seeds this pumpkin held, got a prize: a pumpkin pie plate! There were 275 seeds in that little pumpkin, can you believe that?
I love that with a Recipe Club, you not only get to have a recipe and see what the dish looks like, but you get to taste it too. Yum!