I'm always looking for a healthy option for snack time with my kids. Especially when they come home from school and are famished – sometimes they act like I never feed them, they're so hungry after-school! So these ABC smoothies are just the thing for something to sip while they work. My girls loved these "ABC smoothies", very appropriate for after-school!
I've partnered with Workman Publishing and their new Big Fat Notebook study series once again to help us all have a super successful school year. Be sure to see our first post all about these helpful Middle School resources and how much fun they are in helping my kids to love each subject. Today, we're making an after-school snack that will help my middle schoolers get through their homework time. These ABC Smoothies are just what they need to get going on their school work, as well as a little help from these Big Fat Notebooks too.
ABC Smoothies for an After-School Snack
Ingredients for ABC Smoothie:
A for Apple – 2-3 apples sliced, peeled if preferred
B for Banana – 2 bananas sliced
C for Coconut Milk – 2 cups milk
– you could also use "cherries" or "cranberries"
1 cup water
2 cups spinach – gotta get those greens in there and my kids don't even notice!
Method:
1. Add your spinach, coconut milk, and water to the blender and blend it on the smoothie setting.
2. Add in all your fruit to the blender and blend it all together.
3. Pour it into 8oz glasses and add straws for sipping!
yields 5 cups 
Now it's ready to drink! You can make these ahead of time while the kids are at school or in the morning. Place them in the fridge with a cover on them. When they are ready to drink, give them a stir before you pour and they are good to go! These smoothies will fill them up, give them energy, and wake up their brains to finish homework. Make one for yourself too! You're going to love these delicious and healthy smoothies.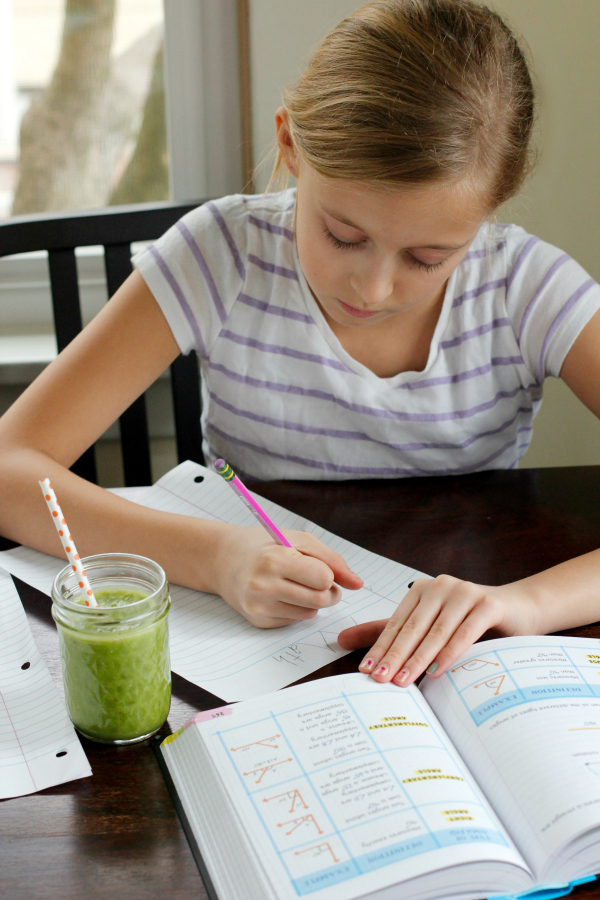 For a little extra help with homework this year, check out this fun printout for learning how to take great notes. I love the idea to doodle little pictures to help you!
*This post is sponsored by Workman Publishing. Be sure to follow @WorkmanPub on Facebook, Instagram, Pinterest, Twitter, and Tumblr. You can purchase these #BigFatNotebooks at the following retailers: Amazon, Barnes & Noble, Indiebound, and Workman!