We've got apples are on the brain this season. With apple cards, candy apples, yarn apples, I can't seem to get enough. Well, as I was browsing Pinterest, I came across this post from Muses of Megret on baking your cupcakes into Valentine hearts. It's such a cute and clever way to bake these! It sparked a thought that this method would also make the perfect shape for an apple as well. So here are apple-shaped cupcakes, cute as ever!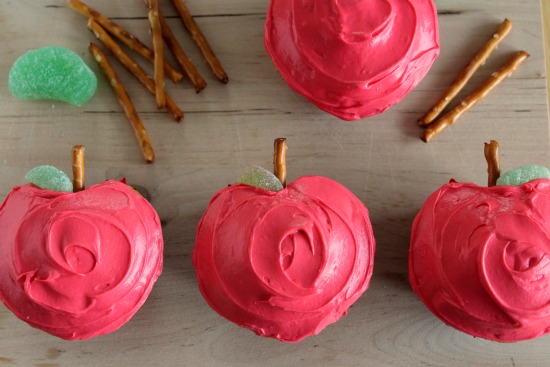 Make Apple-Shaped Cupcakes
Watch the video for a quick how-to for baking up these apple-shaped cupcakes for a fall time treat! With this special little trick, you'll have sweet apple-shaped cupcakes to serve your loved ones. It's such a clever way to bake cupcakes, cute as ever!
Supplies:
cupcake mix
cupcake liners and muffin tin
marbles or tinfoil
red colored frosting
pretzel sticks
green gumdrops
Instructions:
1. Over at Muses of Megret, she prefers to use marbles, but if you don't have them, which for some reason I don't, to use balls of tinfoil. And I got these great red cupcake liners from Cindy over at Sweet Baking Supply, (they are even scalloped, so cute!) Simply roll your tinfoil into a small 1/2 inch ball and place into the liner. It might pop out until you have your batter into the liners as well.
2. Pour your batter into your liners. You may have to hold down your liners as you pour. Make sure the aluminum foil balls stay in place afterwards.
3. Bake your cupcakes according to your directions and make sure to let them cool.
4. Mix up some red frosting and frost your cupcakes. My favorite tool for this is an offset spatula, a small 1/2 inch wide one. These spatulas are so great for spreading frosting.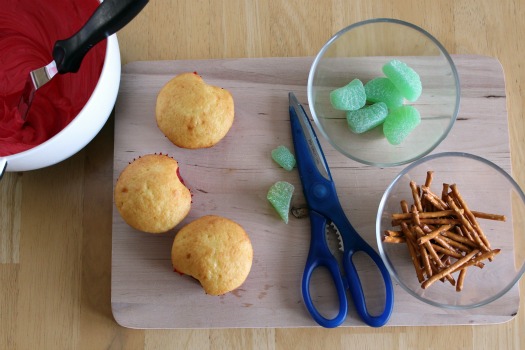 5. At the top of the cupcake indent, add a stick pretzel, pressing it 3/4 of the way through. But be careful that it doesn't come all the way out on the other side.
6. Using kitchen scissors, trim down your green gumdrop into a small leaf size and place it next to the pretzel, on top of the frosting to help it stick.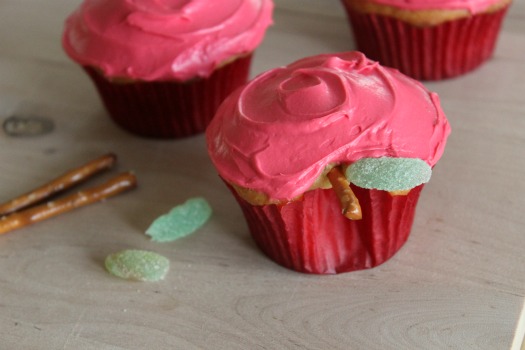 Cutest Apple-Shaped Cupcakes
Now they are ready to bite into. You can make enough for your child's classroom, or just a few for their teacher. Just don't forget to keep a few at home for yourself!
Have fun baking(and eating!) apple-shaped cupcakes for fall!
SaveSave
SaveSave