Spring seems to bring on the Babies. Maybe it's just because I'm due in June with my own, but Baby Baby Baby is in the air. Here is the perfect Hand-Stitched Card for any new mother having a child. This Baby Binky Card can be made with either blue or pink thread. Follow the pattern and instructions and you can easily hand stitch this card yourself.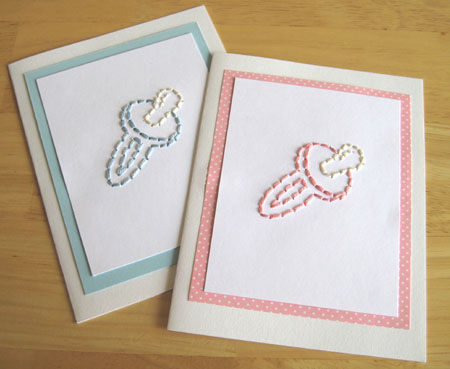 Supplies: Everything is available at your local craft or fabric store.
Punching Awl
Pattern for baby binky to punch: Download this pattern, then print it out:baby-binky-pattern
Cork board: For punching holes in card – found at kitchen or office store (try a cork hot plate)
Thread: I usually use DMC floss, with all six strands
Needle: Cross-stitch needle #26 for 18-22 count fabric
Cardstock: white piece, accent color piece, folded card piece
Envelope: white envelope that measures, 4 ½ " x 5 ¾ "
Glue: Glue stick, glue dots, spray glue is recommended
Instructions: For Punching, Stitching, and Gluing this card, please visit my Basic Instructions Post.
P.S. Heather, who won the Card Supplies Giveaway, sent me this card that she hand-stitched from using the supplies. The ideas for stitching cards are endless. I love her cupcake. Great Job, Heather.