For family movie night, we were excited to see some all-new antics from Boog and Elliot in OPEN SEASON: SCARED SILLY. What better way to hang-out with this silly group of forest friends than to take our movie night to the great outdoors, also known as our own backyard!
We pitched the tent in our backyard and made it super-cozy with lots of blankets, sleeping bags, and pillows. A laptop computer (or portable DVD player) on a small stool or table is perfect for tent movie-viewing. It was a little more set-up than our usual living room movie night, but so much fun!
Of course, we couldn't have movie night without a treat. We combined our favorite movie night snack with our favorite camping treat for a delicious S'mores Popcorn. Yum! We even used Teddy Grahams snacks in place of graham crackers, in honor of Boog the Bear. This s'mores popcorn is so delicious (and easy!), you might want to make a double-batch!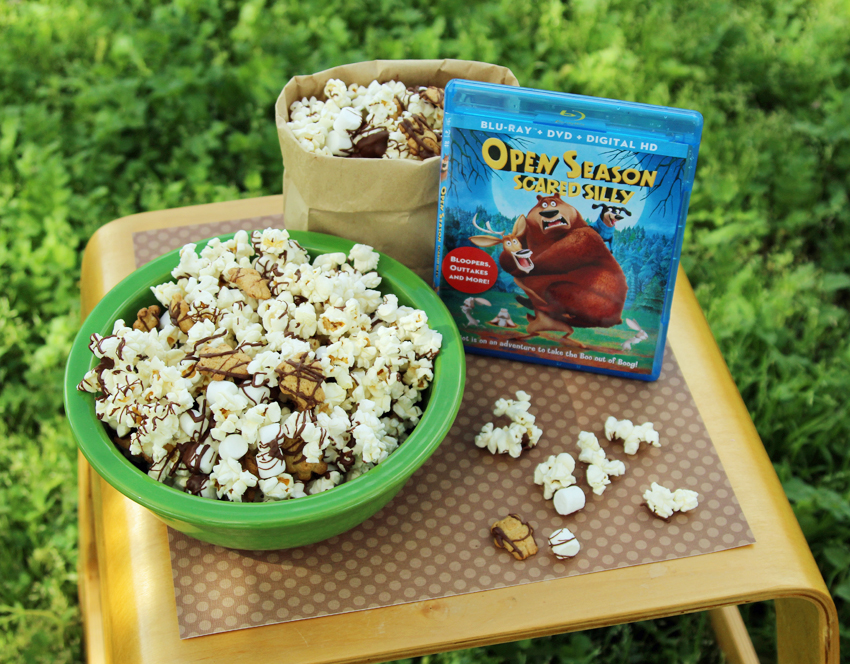 Backyard Movie Night with S'mores Popcorn
Ingredients:
1 bag microwave popcorn, popped
mini marshmallows
Teddy Grahams or crumbled graham crackers
1/2 cup milk chocolate chips
1/2 teaspoon coconut oil (optional)
Method:
Line a baking sheet with parchment paper. Spread out the popped popcorn, then sprinkle mini marshmallows and Teddy Grahams on top.
Melt the chocolate chips in the microwave in 30-second intervals, stirring each time, until smooth. I like to add a small amount of coconut oil to make the chocolate a better consistency for drizzling.
Drizzle the melted chocolate all over the popcorn, marshmallow, and Teddy Graham mixture. Allow to set at room temperature for 1-2 hours, or pop it in the fridge for 15-20 minutes.
Paper lunch sacks filled with tasty s'mores popcorn, the family snuggled up in a cozy tent outside, and a movie that had everyone giggling – pretty much the perfect family movie night!
Here's a little more about OPEN SEASON: SCARED SILLY: 
In celebration of Open Season's 10th Anniversary, Sony Pictures Animation presents an all-new animated movie, OPEN SEASON: SCARED SILLY, available now on Blu-ray™ Combo Pack and DVD.

Elliot, Boog and all your favorite woodland creatures are back in a brand new, comedy adventure,OPEN SEASON: SCARED SILLY. When a case of mistaken identity leads both humans and animals to believe there is a monstrous werewolf on the prowl in Timberline National Forest, former hunter Shaw seizes on the opportunity to re-open open season. With Shaw on the loose and all the animals at risk, it's now up to Boog, Elliot, and Mr. Weenie to face their fears, track down the elusive werewolf, and get open season closed permanently.
I see many more backyard movie night campouts in our future. We might try this recipe for Mr. Weenie's Sweet N' Salty Puppy Chow or Boog's Berry Good Trail Mix for our next movie night snack – Open Season Recipes. We'll just have to keep a lookout for the Wailing Wampus Werewolf!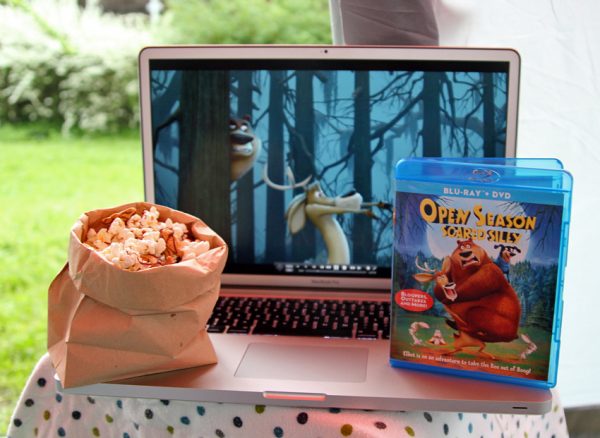 **Thanks to Sony Pictures Home Entertainment for sponsoring our backyard adventure! Be sure to purchase OPEN SEASON: SCARED SILLY on Amazon and Walmart.com today. Visit the Official Site, like 'Open Season' on Facebook, and follow Sony Pictures Animation on Twitter and Instagram.
SaveSaveSaveSaveSaveSave