My kids love this story, I Don't Want to Have a Bath by Julie Sykes. We read it this week for storytime. Little tiger doesn't want to take a bath. How can he be convinced he needs one?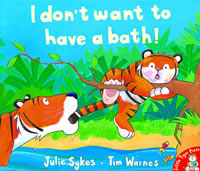 To help my kids get in the tub, we made some Foam Bath Toys cut into all kinds of shapes. These are made with crafting foam sheets, available at Walmart or most crafting stores. You can trace the shape first or simply cut them out. If your child is okay to use scissors, let them make the shapes they want, even if they're crazy.

MY LATEST VIDEOS
They stick great onto the walls of the tub once wet, but DON'T leave them on the walls after their bath. Mine made a small stain on the wall and I had to scrub it out. It may have been because I used really cheap foam sheets from the Dollar store. The kids still loved these, so I think I'll be doing the alphabet next.
Here's more fun Bath Toys and Activities we've done in the past: