My husband, Josh, does a lot of the cooking at our house. I know, I am a lucky gal:) One of his favorite meals to make and eat is homemade pizza. His favorite pizza is his own creation, BBQ Chicken Deluxe Pizza. The other night he was craving pizza, but we didn't have time to make pizza from scratch, so he created a BBQ Chicken Quesadilla. The quesadilla has all of the same flavors as the pizza, but in quesadilla form. Genius right? And SO easy to whip up for a quick meal idea. Lunch, dinner, or an afternoon snack.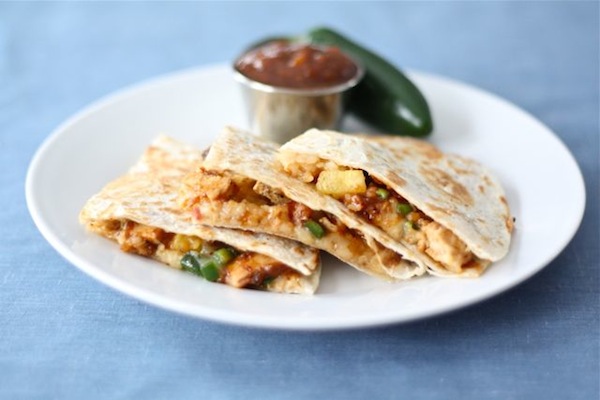 Two flour tortillas are stuffed with chicken, pineapple, onion, jalapeños, bacon, cheese, and bbq sauce. The quesadilla is easy to make, which makes it a great weeknight meal. Josh still loves his pizza, but is happy he has a back up. If you are making it for the kiddos, you can leave the jalapeño out, but Josh likes the kick!
BBQ Chicken Deluxe Quesadilla
Ingredients:
4 flour tortillas
6 ounces grilled chicken, chopped
1/2 small red onion, diced
1 small jalapeño, diced
1/2 cup pineapple, diced
2 strips bacon, cooked and crumbled
1 cup shredded Monterey Jack cheese
1/4 cup BBQ sauce
Directions:
1. To make the quesadillas, sprinkle 1/4 cup cheese on the bottom of one flour tortilla. Top with 3 ounces of chicken, half of the diced red onion, jalapeño, pineapple, and bacon. Drizzle with half of the bbq sauce and sprinkle an additional 1/4 cup of cheese on top. Place another tortilla on top.
2. Heat a large skillet over medium high heat. Add quesadilla to the pan, letting cook on each side about 5 minutes, or until tortilla is crispy and cheese is melted. Use the remaining ingredients to make another quesadilla. Cut into triangles and serve warm.
Serves 2
I hope you love this quesadilla as much as we do. Feel free to switch out ingredients with your favorites and get flavor creative.
SaveSaveSaveSaveSaveSave