I've been on a mushroom kick lately. I'm a big fan of the portabella mushroom and I've recently found them in baby size at Costco. They are the perfect size for stuffing, so I came up with this healthy version of a stuffed mushroom. Take this blue cheese stuffed mushrooms to your next party or get together with friends. They make the most delicious appetizer or bite-sized snack.
Blue Cheese Stuffed Mushrooms
25 portabella mushrooms
1/4 cup diced red onion
1 tsp minced garlic
3/4 cup breadcrumbs
1/3 cup blue cheese
1 tsp parsley flakes
1 tsp salt
Optional additions: cooked pork sausage, bacon, cream cheese, crab
1. Pop the stems off of your mushrooms and place the caps open end up on a lightly greased 9×13 baking dish. Save the stems and dice them up as small as you can and set aside.
2. In a pan on medium heat, saute your red onion and garlic until soft, about 5 minutes. Add your diced stems and cook until soft, another 5-8 minutes.
3. In a separate bowl, mix your blue cheese and 1/2 cup of your bread crumbs. Add your cooked onion mixture to the bowl and mix. Add 1 tsp parsley, 1 tsp salt, and it's ready to fill.
4. With a spoon, add your filling to each of the mushroom caps in a mound shape. Sprinkle the remaining 1/4 cup of breadcrumbs to the top of each mushroom, giving it a little crunch when baked.
5. Bake your dish in a pre-heated 400 degree oven for 20-25 minutes, until soft and darker. Be aware, they shrink.
Let them cool just a bit, but not too long as they are better served warm.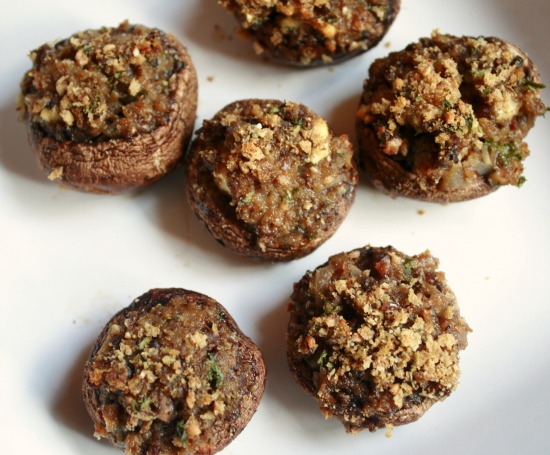 They are quick and easy little devils to eat, so be careful as you start popping them into your mouth not to eat them all up at once, like me! So so yummy.
SaveSaveSaveSave