St. Patrick's Day is on Saturday! We usually make Corned Beef and Cabbage in the slow cooker. So this year we'll make Braised Kale with some toasted bread crumbs, something green and healthy and we'll attempt to get all of our kids to eat it!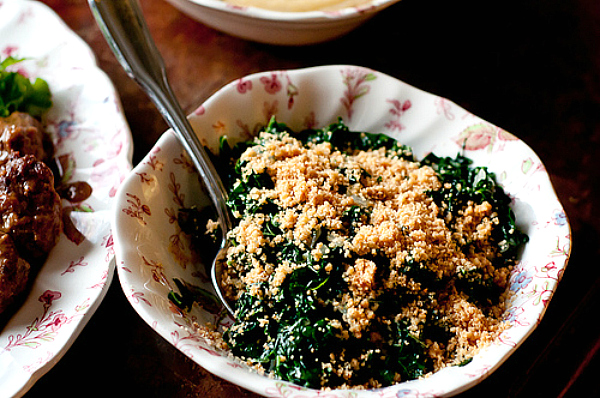 One of the easiest, tastiest recipes for leafy greens is braised kale.  It also happens to be a family favorite.  Topping it with toasted bread crumbs is a fun way to change it up.  So is adding toasted almonds for more crunch, or even a little freshly grated parmesan cheese for even more flavor.  It would be great served on the side of corned beef instead of cabbage (it's a little healthier). You will really love this recipe. And it's perfect for St. Patty's Day.
Braised Kale with Toasted Bread Crumbs
Ingredients:
1 large bunch kale, rinsed and patted dry
1 small onion, thinly sliced
extra virgin olive oil
1/4 cup water
a splash of red wine vinegar
salt and pepper to taste
1/2 cup or more toasted homemade bread crumbs (see here, I used gluten-free)
Method:
Tear the leaves from the stalks and cut into thin strips crosswise. Rinse in cool water and drain well.
Heat a large skillet over medium-high heat. Add a little olive oil (maybe 1 tsp.) and add the onion. Cook the onion until it starts to soften and take on a bit of color. Add the kale and a little of the water; only enough so the kale doesn't stick to the bottom of the skillet, not too much. Use tongs to turn the kale over so it evenly wilts in the hot pan. Sprinkle with salt and pepper. Continue to cook until for about 5 more minutes, or longer, until it has softened. Add a splash of red wine vinegar.   Transfer to a serving bowl and top with toasted bread crumbs.  Serve immediately.
More ideas for a Healthy St. Patrick's Day:
Irish Colcannon and Thyme Leaf Soup
Vegetarian Kale and Potato Soup
Mushroom Barley Soup
Vegan Shepherd's Pie with Gravy
Irish Colcannon with Kale
Guinness and Chlorella Braised Cabbage
Gluten-Free Soda Bread
Irish Brown Bread
Whole Wheat Vegan Irish Soda Bread
Apple Crumble with Toasted Oat Topping
Healthy Shamrock Smoothie
Healthy Dairy-Free Shamrock Mint Shake
SaveSaveSaveSaveSaveSaveSaveSave