It's Wednesday and the day before Thanksgiving.  I know.  You probably already have your menus planned.  Have you baked your pumpkin pie yet?
I'll let you in on a little secret–I don't like pumpkin pie….unless it's the one pictured below.  This pie changed my mind about pumpkin pie forever.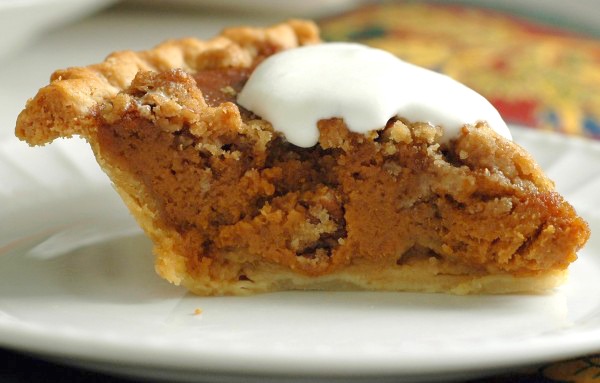 Last year as I was casually flipping through Dorie Greenspan's Baking: From My Home To Yours, like I do on a regular basis, the recipe for Caramel Pumpkin Pie struck a chord. First you melt sugar until it is deep and dark, then you add it to the filling. I was intrigued. And I was even more intrigued to find that Dorie included (as she usually does) a Playing Around version with streusel. Her recipe calls for almonds, I used pecans.
Above you see the lovely side view of the sweet and crunchy pecan streusel embedded in the luscious filling.
If you don't like pumpkin pie, this might very well change your mind and you're welcome.  And if you do like it, well, then you're welcome.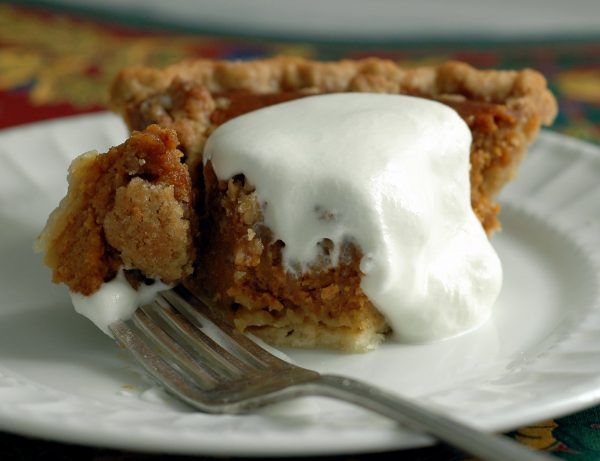 Caramel Pumpkin Pie


From

Baking: My Home To Yours

by Dorie Greenspan
1 9-inch pie crust, partially baked and cooled
1 cup sugar
3/4 cup heavy cream
2 tablespoons dark rum, cognac, or apple cider
2 tablespoons unsalted butter, cut into 4 pieces
1 cup canned pumpkin puree
1 1/4 teaspoons ground cinnamon
3/4 teaspoon ground ginger
pinch of freshly grated nutmeg
tiny pinch of ground allspice
pinch of salt
1 1/2 teaspoons pure vanilla extract
2 large eggs
Lightly sweetened whipped cream, for serving
Getting Ready: Center a rack in the oven and preheat the oven to 350 degrees F. Place the pie plate on a baking sheet lined with parchment or a silicone mat.
Sprinkle 1/2 cup of the sugar evenly over the bottom of a large nonstick skillet. Place the skillet over medium-high heat and staying close by, cook until the sugar melts and starts to color. Once you see a little color, gently swirl the skillet so that the sugar colors evenly. Cook the sugar, without stirring, until it turns deep amber–almost mahogany. The sugar will bubble up and foam and soon it will start to smoke. It is very dramatic, and it might make you think you've gone too far, but you want a dark (though not burned black) color; the darker the sugar, the fuller the flavor. When the bubbles have gone from foamy to big and fat, you will probably have reached the right color. To check the color, drop a bit of the caramelized sugar on a white plate.
Lower the heat to medium, stand back and pour the cream into the skillet. The sugar will bubble and hiss and, if the cream was cold, it may even clump. Just continue to cook, stirring, and it will even out. Add the rum (or cider) and butter and cook just until the caramel is smooth. Pour the caramel into a heatproof pitcher or bowl and cool it for about 15 minutes.
Working with a whisk in a large bowl, beat the pumpkin to break it up and smooth it. Add the remaining 1/2 cup sugar and beat to blend. Whisk in the spices, salt, vanilla and eggs, beating until the mixture is smooth. Whisk in the caramel. Rap the bowl against the counter a few times to de-bubble the filling, then pour the filing into the crust.
Bake for 45 to 50 minutes, or until the filling is puffed and set–tap the pan gently and the filling won't jiggle. A thin knife inserted into the center of the pie will come out clean–it also leave a gash in the filling, but you'll be covering it with whipped cream.
Transfer the pie to a rack and cool to room temperature, or cool and refrigerate. When you are ready to serve, spread the lightly whipped cream over the top of the pie. If you'd like a dressier look, whip the cream until it is firm, put it into a piping bag fitted with a start tip and pipe rosettes over the surface of the pie. Alternatively, you can pipe the cream in a lattice pattern.
Playing Around: Streuseled Caramel Pumpkin Pie
To add a little crunch to this dessert, bake the pie for 10 minutes, then scatter chunks of pecan streusel over the top and finish baking.
Pecan Streusel
2 tablespoons all-purpose flour
2 tablespoons brown sugar
2 tablespoons chopped pecans
2 tablespoons cold butter
Mix until crumbly. Refrigerate until ready to use.
Lindsey Johnson is an avid baker and mother to three very active (and sometimes very naughty) children who love to help her in the kitchen and eat their fill of pumpkin pie and other holiday treats.
SaveSaveSaveSaveSaveSaveSaveSave