I needed a dessert for a party and wanted something with chocolate. After searching my cupboards, I came up with a few supplies I knew I could throw together. I found chocolate pudding, but added whipped cream I had in the fridge to make it fluffier. Then scooped this all on a graham cracker crust, and Chocolate Pudding Pie was born.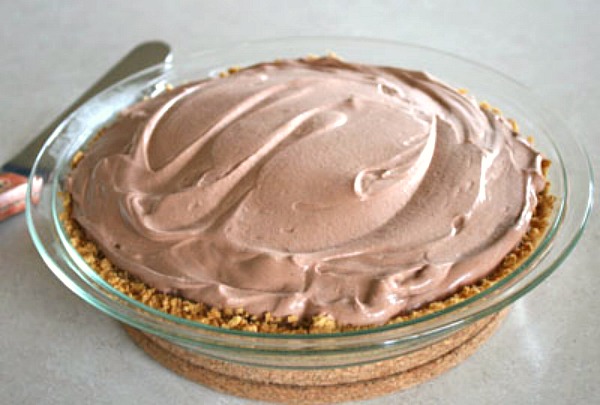 Recipe for Chocolate Pudding Pie:
One small box of chocolate instant pudding – other flavors will also work
8 oz. whipped cream – cool whip or whip up your own
graham cracker crust – I make a homemade graham cracker crust.
Method:
1. Prepare your pudding mix as instructed – shake up your pudding till firm.
2. Fold in your whip cream. Don't mix too much, just enough until it's mixed.
3. Pour filling into your crust and chill in the fridge until you're ready to serve. It could be garnished with a few fresh berries or extra graham cracker or even some chocolate shavings.
That easy! And you know I'm all about fast and easy recipes. This dessert will be made for every dinner party we have for the rest of the year!